Endangered Conifers: Cupressus nevadensis
Explore the groves of the native conifer Cupressus nevadensis in the southern Sierra Nevada Mountains.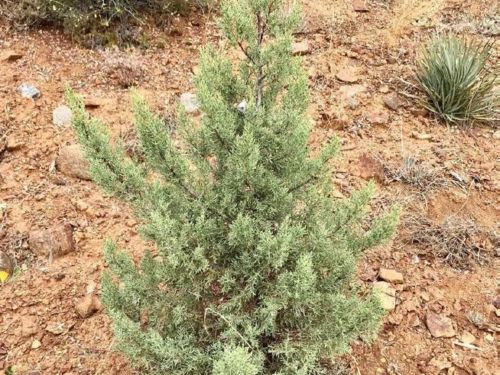 Ever since a trip back in 2012 to see the rare bristlecone fir (Abies bracteata) with good friend and mentor, Tom Cox, I have had a keen interest in seeing conifers in situ. While information found in books or online can offer reasonably good details on providing suitable growing conditions for a particular tree, actually seeing conifers growing in their native habitat, first hand, will certainly add to one's depth of knowledge.
Personally, I have seen more than 100 conifer species in situ, both in this country and around the world. However, I am always looking to add to my list of new discoveries. While I have to admit that there are a good number of conifers native to my home area of the Southeast, most have already been checked off my list. So, I had to cast my net farther, and, in this instance, several thousand miles farther away.
Conifer Hunting in California
Since 52 conifer species grow within the borders of California, it is ground zero for conifer diversity in the United States and a great one-stop shop for conifer-hunting. Over the years, I have narrowed that list of 52 down to 8 remaining to be found. On that list is Cupressus, of which 10 species call California home. Of these ten species, three have eluded me: Santa Cruz cypress (Cupressus abramsiana), Gowen cypress (Cupressus goveniana), and lastly, Paiute cypress (Cupressus nevadensis), to which I was hoping to pay a visit.
With two free days in my pocket and flights to the West Coast, with open seats (I work for an airline with flight benefits – and no, don't ask for buddy passes!), my plan was to set off after work on July 10th for Bakersfield, California, since that is the closet airport to my eventual destination of Bodfish, CA, and the Bodfish Paiute Cypress Botanical Area, located about an hour's drive east of Bakersfield.
Prior to my leaving, I learned that C. nevadensis is native to only a dozen or so scattered groves surrounding Lake Isabella in Kern County, in the southern Sierra Nevada Mountains. Of these scattered groves, I could only find detailed information on the largest, the Bodfish Paiute Cypress Botanical Area, located on the north side of Bald Eagle Peak between 4,000- and 6,000-feet elevation and home to several thousand trees. Access was stated to be via a washboard, dirt road, recommended for high-clearance vehicles, but with a note that most passenger cars could make it with careful maneuvering around larger rocks and ruts.
Getting into Conifer Country
After an evening arrival into Bakersfield, I woke up early the next day, allowing myself plenty of botanizing time, with a hope of avoiding the worst of the scorching heat that was forecast. Departing the hotel, my journey took me east from Bakersfield, into the rugged, narrow canyon, through which the Kern River flows before opening up to the valley, where Lake Isabella is situated.
Below the southern end of Lake Isabella lies the town, if you can even call it that, of Bodfish, which is little more than two bars, a few houses, and not much else. From there, at 2,674-feet elevation, the road began to climb in a series of switchbacks to a draw, where I would leave pavement behind, starting my 3-mile, off-road adventure.
At this elevation, the dominant tree species are gray pine (Pinus sabiniana), California juniper (Juniperus californica), and single-leaf, pinyon pine (Pinus monophylla), accompanied by sagebrush (Artemisia tridentata), which covers much of the ground. As described in the literature, the road was not in bad condition. It proved to be passable, as long as one steered carefully around the larger rocks that occasionally presented themselves, and one kept an eye out for the resident deer that might unexpectedly bolt out in front of the car.
Seeking Cupressus nevadensis
Climbing higher and higher in elevation, great views of Lake Isabella and the surrounding mountains were to be had off in the distance, while around me the vegetation was starting to change, as well. Gone were the P. sabinana and sagebrush, replaced now with such things as manzanita (Arctostaphylos sp.), mountain mahogany (Cercocarpus betuloides), and our Lord's candle (Hesperoyucca whipplei), a few of which were still in bloom with their tall flower stalks, laden with hundreds of white flowers.
At some point, as if some unseen boundary had been crossed, the bushier green juniper trees, that had been still present, seemed to vanish and were replaced by what I had come all this way to see, C. nevadensis. Out of the blue, they were seemingly everywhere on the slopes above and below the road, conical in form and Army green to glaucous in color.
I continued driving up the road, hoping to find a sign officially designating the Bodfish Paiute Cypress Botanical Area, but none was to be found. Only a marker for the Sequoia National Forest was present. Feeling I had gone far enough, I found a wide spot in the road and parked. Not another soul was to be seen, and I had the whole place to myself for my brief in situ encounter.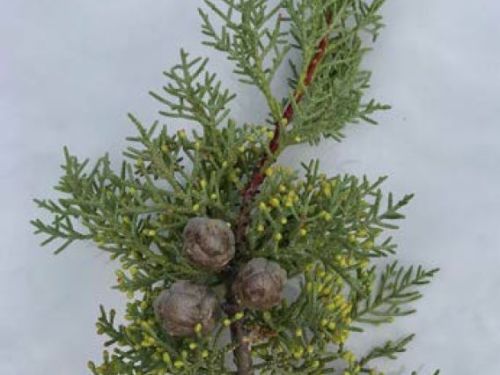 Walking back down the road, I found a random tree to examine more closely, noting such things as the aromatic and resinous foliage, the size of the cones, the vertically fissured bark, and anything that could possibly help me in the future to distinguish this particular species from others in the family.
Stepping back to take in the bigger picture, I noted that the younger trees were certainly fuller and more symmetrical than their older, more open and time-worn counterparts. The soil appeared to be a combination of a well-draining, decomposed granite, with bigger rocks mixed in. Overall, the health of the trees looked good, even with years of punishing drought that had plagued the state.
While there were trees in almost all sizes, from mature, 30-feet (10-meter) high, old-timers to a few 1-foot (3-meter) or less juveniles, I found no evidence of seedlings. This might very well have been because C. nevadensis needs fire to open its tightly closed cones, and, where I was, there was no evidence of recent fire. I continued walking farther up the road, rounding a few bends. I did come to an area that had been burned within the past few years. Here, regeneration was quite evident, with younger trees rising up around blackened stumps.
A Cypress Surprise
Since I felt I had accomplished what I had set out to see, I set my sights on a point up ahead where I would turn around to head back to the car. Unbeknownst to me, the grand finale was about to happen in the final steps of my trek. Growing on a slope just above the road and, as if floating among the upper branches of a most pathetic excuse for a nevadensis, was a beautiful, teardrop-shaped witch's broom. As an avid broom hunter myself, I stood in awe, admiring this stunning specimen. With the proper tools, it would easily have been within reach, but now was not going to be that time.
With several hundred photos and about 20 cones, which I hoped were filled with viable seed, I said goodbye to C. nevadensis and started my trip back to Bakersfield and home. Yes, it was a long distance to travel just to see a tree, but, since this is in California, and C. nevadensis is of limited distribution, it might be here today and gone tomorrow.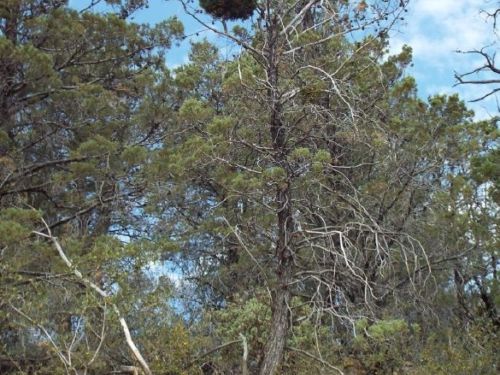 Southeast Adaptability of Conifers
C. nevadensis is closely related to Cupressus arizonica. Thus, it might be expected that performance of this species in gardens of the Southeast would not be good. To my knowledge, however, the only Southeast-garden trialing of this plant is in the Cox Arboretum, just north of Atlanta, Georgia.
Both of Tom's two, small specimens have exhibited vigorous steely-blue growth and have shown no ill effects from excessive moisture and humidity. Provided with a site having good drainage that generally stays on the dry side and receives full sun, C. nevadensis may offer an uncommon addition to any collector's garden. The biggest challenge, of course, might be locating and purchasing a specimen.
If you are hoping to stumble across this plant at your favorite nursery, forget about it. After extensive internet searches, the only source I have found was Las Pilitas Nursery in Santa Margarita, CA, which intermittently has this plant available. They may or may not ship to East Coast addresses, depending on how much you plead.
References
Lanner, R. (1999). Conifers of California. Third Edition. Cachuma Press, Los Olivos, California.

Photographs by Scott Antrim.
Scott Antrim is a resident of Lake Wylie, SC. Most days, Scott can be found working in his modest one acre collection of conifers, woodland perennials, xeric plants, and whatever else captures his fancy. When time allows, Scott enjoys the thrill of the chase, seeing new species of conifers in the wild and constantly keeping an eye out for witch's brooms.

This article was originally published in the Winter 2019 issue of Conifer Quarterly. Join the American Conifer Society to access our extensive library of conifer-related articles and connect to a nationwide group of plant lovers! Become a member for only $40 a year and get discounts with our growing list of participating nurseries in our Nursery Discount Program.
Comments