Discovering New Conifers in Canada
Get to know the Journeay in discovering a new conifer cultivar.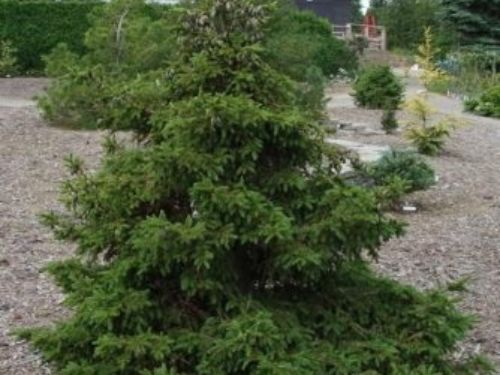 For many years I have marveled at the extreme variations in our native trees. As I travelled the forest of eastern Canada during my career in the forest industry, I discovered some very strange plant forms. Since retiring, my wife and I have joined the American Conifer Society. We are amazed at the many cultivars previously unknown to us in this area. We also noticed that many of the northern conifers were not as widely publicized.
Several years ago, I decided to start collecting and propagating some unique and yet bizarre plants. I would like to introduce a few of the many selections I have found and named and hope that others might enjoy them as much as we do.
Most of my selections can be found at Kingsbrae Gardens (ACS Member) in St. Andrews, New Brunswick. I strongly recommend a visit to the gardens where they have recently added to their conifer collection. I continue to add new specimens as I find them each year.
'Halle's Cone' Red Spruce
Red spruce (Picea rubens) is quite common in Atlantic Canada and some very interesting dwarfs have been discovered. One that I'd like to share is the very slow growing conical P. rubens 'Halle's Cone' that was discovered growing in an industrial plantation in Nova Scotia.
The tree is currently about 5 feet tall with dwarf foliage and cones and is about 30 years old. A very dense conical shape has been retained with annual height growth about 2 to 4 inches per year. This tree has been successfully transplanted into cultivation but is not yet propagated.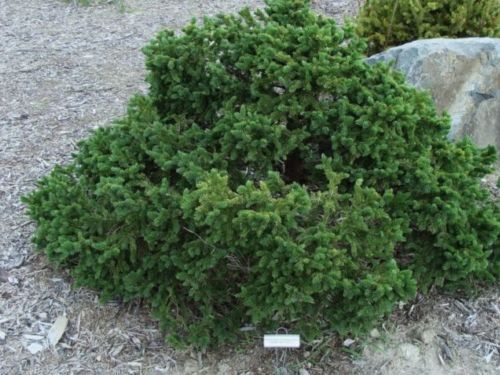 'Charlotte's Pillow' Red Spruce
Another red spruce P. rubens 'Charlotte's Pillow' was also discovered growing in the wild in Nova Scotia and is a dwarf dense mound with typical red spruce foliage and a darker green color. The tree is also about 30 years old and 2 feet tall with very slow annual growth (<2 inches per year). It has not yet produced seed. This tree has also been successfully transplanted into cultivation but is not yet propagated.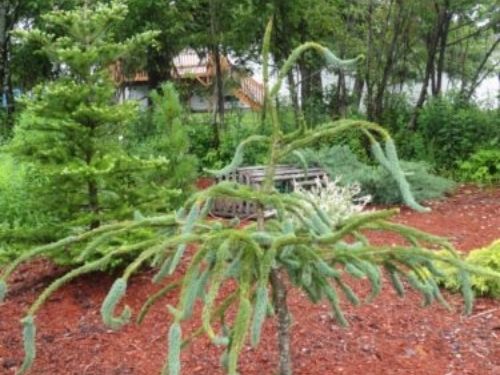 'Scotia Spider' White Spruce
A few years ago I discovered a bizarre white spruce I have named Picea glauca 'Scotia Spider' growing in the ditch along a major highway in Nova Scotia. This tree is quite breathtaking in that it has very rapid height growth with little or no internodal branching at any part of the tree and a pronounced hook at the ends of lateral branches. This tree has been successfully propagated by grafting but has not yet produced any cones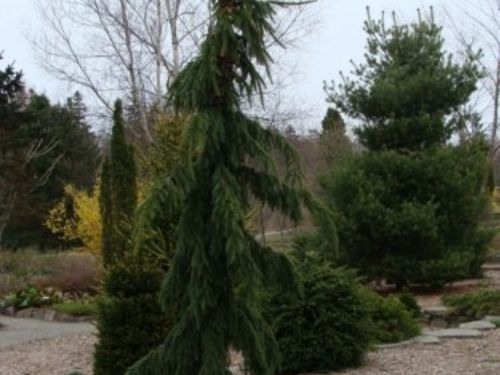 'Jack William' Black Spruce
Another interesting specimen is Picea mariana 'Jack William.' This was discovered growing in the wild in a spaced young conifer forest, which is a natural population that has been mechanically thinned to optimize growth for commercial purposes.
It has a very upright habit with very attractive weeping branches. It has good annual height growth (>1 foot per year) and has been successfully grafted. It is now established at several locations.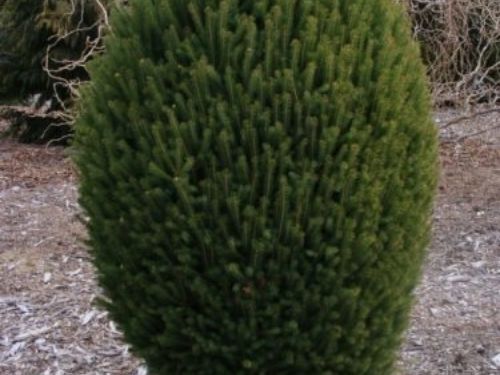 'Craig' Black Spruce
Recently I discovered another very exciting black spruce Picea mariana 'Craig' growing in a young forest plantation. This extremely dense and perfectly symmetrical compact black spruce is very similar to Picea glauca 'Laurin' and Picea abies 'Ohlendorffii.' This is a beautiful tree for any location. It has been transplanted to cultivation but has not yet been propagated.
A red spruce and white spruce exhibiting the same compact and symmetrical shape have also been discovered and collected. The small conical red spruce and white spruce were discovered at other locations. The white spruce was along a highway and the red spruce was discovered in a wild population in the forest. All three are now established at Kingsbrae gardens in St. Andrews, New Brunswick.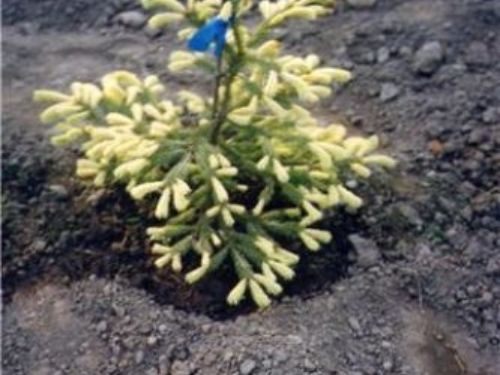 'Sandy's Gold' White Spruce
Lastly, I would like to introduce Picea glauca 'Sandy's Gold.' One of my wife's favorites, this beautiful tree was discovered along with a few other wild trees growing in an old farm field. It is a well shaped tree with an amazing yellow flush of new growth that seems to last longer each year as the tree matures. We expect about 4 weeks of brilliant show followed by a gradual fading to green needles with faint white tips.
I have heard of a few other similar white spruce and a black spruce in the area but have not seen them. This tree is very comparable to Picea orientalis 'Aurea' and Picea orientalis 'Early Gold.' It grafts well and has been established at several locations.
These are but a few of the many strange conifers that I have identified and hope to have officially recognized. I have many that are still under investigation and have not yet been named or propagated. Most are at least established in my garden. If there are any readers with a particular interest in all northern conifers, I look forward to hearing from them to exchange ideas and photos.
Bill and Sandra Journeay live and garden in Nova Scotia, Canada.
Editor's Note: Cultivars are named selections of plants, usually clonally propagated. To formally name a cultivar, the name needs to appear in print. With this article, Mr. Journeay has officially named the plants. The plants not yet propagated will become useful cultivars once they are propagated.
This article was originally published in the Spring 2009 issue of Conifer Quarterly. Join the American Conifer Society to access our extensive library of conifer-related articles and connect to a nationwide group of plant lovers! Become a member for only $40 a year and get discounts with our growing list of participating nurseries in our Nursery Discount Program.
Comments