Container Gardening with Conifers
Get container gardening ideas on how to make the most of plants like conifers and vegetables.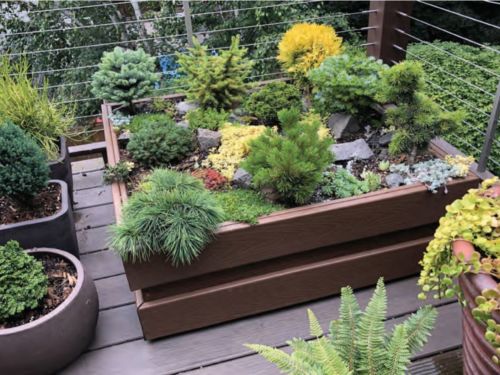 My passion for landscaping began in the early 1970's when my husband, Michael, and I moved from Philadelphia to Oregon. We bought a home close to Silver Falls State Park. I installed a huge rock garden, which included: Sedum spp. (sedums), Sequoia sempervirens (coast redwood), and many small perennials. I did not know much about miniature and dwarf conifers. Looking back to that time, I now realize that many genera of conifers would have been perfect for the sunny exposure the property presented!
Then, 35 years ago, Michael and I purchased property on a beach about 25 miles north of Puerto Vallarta, Mexico. While our house was being built, I quickly learned which plants could tolerate a salty, windy environment. Within one year, I had planted several species of the family Arecaceae (palms), along with Cycas spp. (cycads), Polypodiophyta spp. (ferns), Agave spp. (agaves), Philodendron spp. (philodendrons), and many more species of plants. I worked on that tropical garden for 24 years.
Starting on a Boxed Conifer Journey
I moved back to Silverton, OR, about four years ago, after I lost Michael to cancer. My new living space is a 2nd-floor apartment with a 10-square foot deck. I wondered how I might landscape that space. "Plant in boxes", was my answer.
I commissioned a local carpenter to build containers, using Trex decking material. Voilà! I had a new blank garden canvas. Next, I needed a medium for the conifers I had begun to acquire. I created a soil mixture out of compost, pumice, and fir bark chunks. It drains very quickly, which I knew was important. After all, plants in container gardens, like conifers and vegetables, do not like to sit in water.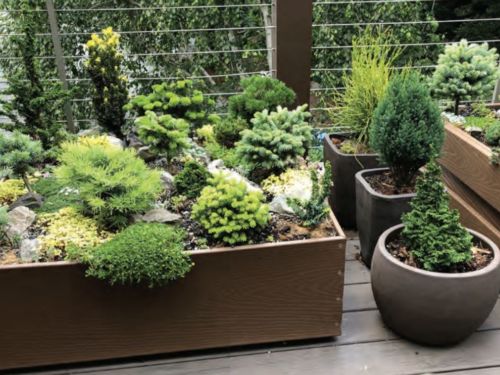 Selecting Conifer Genera for Container Gardening
Two boxes are 2 feet x 3 feet by 1-foot high. A third container measures 3 feet by 16 inches and is also 1-foot high. I have also added many ceramic pots to accommodate even more plants. I planted 10 different conifer genera.
Chamaecyparis obtusa (hinoki cypress) 'Greenstone', 'Gemstone', 'Chirimen', and 'Nana Lutea' thrive and grow in the boxes. To the shades of green of the first three cultivars, 'Nana Lutea' asserts a standout yellow.
There are also three cultivars of Chamaecyparis lawsoniana (Lawson cypress) in the boxes: 'Ellwood's Nymph', 'Wissel's Saguaro', and 'Treasure Island'. These three flip-flop between greens and golds and are slowgrowers. 'Ellwood's Nymph' is a mini, and 'Wissel's Saguaro' reminds me of the cactus after which it was named.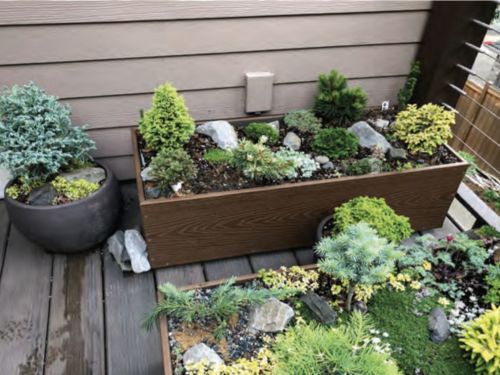 Cultivars of Chamaecyparis pisifera (sawara cypress) add to the texture of the landscape. 'Curly Tops' and 'Tsukumo' pop. The former is a steely blue. 'Tsukumo' offers a bun-shape. Two Thuja occidentalis (eastern arborvitae), 'Amber Glow' and 'Franky Boy' add different dimensions. 'Amber Glow' does just that: it "glows". 'Franky Boy' has cute, stringy, lemonyellow foliage.
I used one Cryptomeria japonica 'Tenzan' (Tenzan Japanese cedar). It has a dense, mounding, shape. Abies koreana 'Kohouts Icebreaker' (Kohouts Icebreaker Korean fir) is silvery. A. nordmanniana 'Jakobsen' (Jakobsen Nordmann fir) draws the eye to its dense, pyramidal form. I used two more firs, A. concolor 'Tubby' (Tubby white fir) for its puff of greenish-blue, and A. borisiiregis 'J.K. Greece' (J.K. Greece King Boris' fir) for its spreading habit.
Conifer Boxing Up with Pines
What conifer garden would be complete without pines? Pinus mugo 'Real Little' (Real Little mountain pine) is sweet and compact. 'Little Gold Star' shines like the sun. 'Jakobsen' looks like an in-ground bonsai. Lastly, Pinus parviflora 'Tanima no yuki' (Snow in the Valley Japanese white pine) is perfect for a "boxed" landscape.
Picea pungens 'Blue Pearl', P. pungens 'Pali', and P. mariana 'Blue Planet' show off the hues that we all love about blue spruces. Add to that appeal the slow growth of all three cultivars, and you have some of the best conifers for small spaces. Picea orientalis 'Tom Thumb Gold' (Tom Thumb Gold Caucasian spruce) also has a habit conducive to container gardening, with its striking, gold fingers and tight foliage. Cedars are always a hit in any garden, either in a full-sized landscape or in a garden like mine.
I used two cedars in my containers: Cedrus libani 'Green Prince' and C. libani 'Hedgehog'. Both choices of Lebanon cedar have two important habits for the small garden: they are both slow growers and centerpiece plants. Finally, I chose Juniperus communis 'Gold Cone' (Gold Cone common juniper), which works both actually and figuratively as an exclamation point in the garden.
A Conifer Deck to Pine For
My greatest inspiration for creating a small conifer container landscape was The Oregon Garden, here in Silverton. ACS member Doug Wilson, who manages the conifer garden and has so much knowledge and artistic talent, has been a huge influence on me.
Each year this magical Oregon Garden gets more beautiful. My deck gives me enormous pleasure. The landscape of colors, textures, and shapes, which I enjoy every season of the year, is the best gift I have ever given to myself. It is my hope that my inspiration can become yours for your conifer, vegetable, or flower garden, as well.
We do not all have large spaces for a conifer garden. However, with the right research and the right conifers, any sized conifer garden can work!
Photographs by Sharon Elkan.
This article was originally published in the Summer 2019 issue of Conifer Quarterly. Join the American Conifer Society to access our extensive library of conifer-related articles and connect to a nationwide group of plant lovers! Become a member for only $40 a year and get discounts with our growing list of participating nurseries in our Nursery Discount Program.
Comments
Hi I just got my first three little mini plants I got a butterball hinoki Cypress, jeans dilly Alberta spruce and a Jacqueline Hillier elm. my questions are - do I have to trim them at all to keep them from growing too big? The Hillier elm is the one that grows the most three to five inches per year and it kind of grows out. So I didn't know if I am supposed to snip some of the branches as they grow out. Also they're in a pot a big pot I wonder if they will be okay during the winter it says -20 10 to 20° below 0 Fahrenheit. but I didn't know if that meant in the ground or in a pot. I live in northern Virginia, we can get some cold and snow some years worse than others. anything you can do to help me out I'd really appreciate it. Thank you so much. I love your deck garden
Loraine, thank you for the compliment.
All my trees are miniature or dwarf.
It's tricky pruning branches. If the cut shows, it could look unattractive. I have moved some of my trees when they got too wide for the space. I have pruned the roots and they are doing great. If you live within the zone, your trees should be fine in containers. I hope this helps.
Best regards,
Sharon
Hi Dotti,
My containers were made by a local carpenter. They're composite decking material. About 12" deep. Many of the conifers listed in my article can be found on the American Conifer society website. All of them can be found on the internet. Over time, some have gotten too big. I just replace with new ones. And a few have died during super warm days in the summer. On occasion, I've used burlap to relieve the trees from hot sun. They have been winter hardy in the climate here in Silverton, Oregon.
Thank you,
Kindly,
Sharon Elkan
Holy smokes your patio looks awesome! I'm gonna use your article as reference for what I'll attempt. I have a couple questions. My patio sees 3-5 hours of sun. Any species from your article you would suggest that do well in shade? I live in MD zone 7a. Most important, I'm a beginner! I would need to keep them all in containers. Alright thank you!

Lance
I love your deck plantings! I have a very small front "yard." I put my conifers in galvanized tubs (with drain holes), one a 4-foot vintage oval tub and the other a 2-foot new square tub. The oval is over concrete and the square over soil, both are raised on bricks to help drainage. I chose a slow-growing Taylor juniper, mini Alberta spruce, creeping blue juniper, Hinoki cypress, dwarf mugo pine, etc. I get so much pleasure out of seeing them. I was tickled pink when the Taylor juniper top finally straightened up (it was bent over on arrival and stayed that way for a year!) and it produced a few berries!