Conifers of Southern United States
Discover the rich diversity of conifers in South Carolina.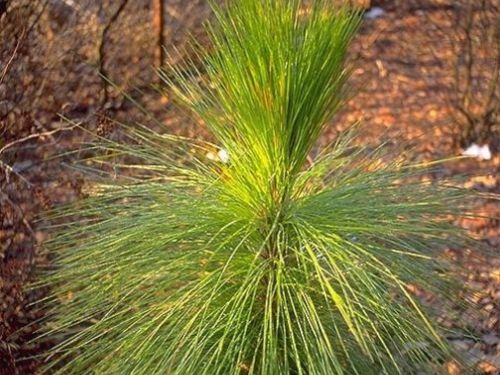 When one conjures up images of the deep South, they typically think of azaleas, magnolias, live oaks, and yes, that noxious vine from China, kudzu. Aside from the ubiquitous pines, scant attention is afforded conifers. After all, when one thinks of conifers, the vast forests of spruce and fir that dominate boreal regions often come to mind.
Although conifers are found in a variety of climates throughout the world, people with a passion for growing conifers and widespread landscape use of conifers is still largely a northern and Pacific Northwest phenomenon. In what is now the southern United States, an immense coniferous forest dominated by longleaf pine (Pinus palustris) once covered more than 90 million acres from Virginia to Texas. This and several other southern pines are still mainstays of the forest products industry.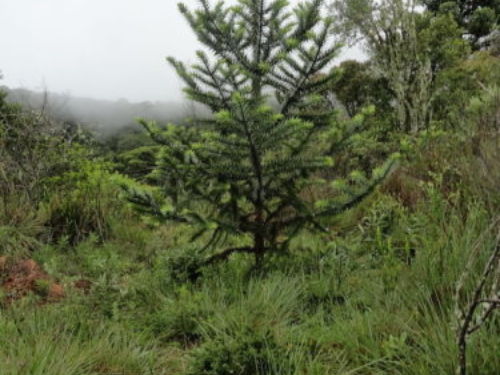 Native Pines in the South's Best Small Town
I live and garden in Aiken, South Carolina, which sits squarely in this pine forest region. Today, the 11 pine species native to the southern United States are all represented in Aiken. Other native conifers including Taxodium, Juniperus, and Chamaecyparis are also found here. Soils, climate, and cultural history combine in Aiken to provide a rich horticultural history. Today, there are few communities that can match Aiken's diversity of trees and other plants.
The International Oak Society has credited Aiken with having the most comprehensive collection of oaks in the United States, but Aiken likewise has a wealth of cultivated conifers. Many genera and species not hardy in colder regions, and/or generally uncommon in cultivation, are represented. Last year, when past ACS president Tom Cox visited me, I could sense that he was surprised at the species diversity found within such a concentrated area.

Conifers at the Hitchcock Woods Preserve
The city of Aiken was laid out in the 1830s by the railroad being built to provide a link from Hamburg (across the Savannah River from Augusta, Georgia) to Charleston, South Carolina. At the time of completion, the railroad was the longest in the world. In the antebellum period, Aiken was a popular summer retreat for coastal planters. In the late 19th century, it became a popular health resort and, later, a winter home for wealthy northerners who pursued hunting and equestrian sports.
It now is a small, vibrant city, retaining an equestrian focus and attracting a growing population of retirees. Today in Aiken's 2,000-acre Hitchcock Woods Preserve, one can see ancient longleaf pines and other native conifers, including disjunct occurrences of Juniperus communis and Pinus virginiana. In the beautiful Hopelands Gardens, enormous deodar cedars (Cedrus deodara), pines, and rare conifers such as Fokienia hodginsii and Cupressus funebris can be seen. Throughout Aiken's historic district, broad tree-filled parkways display a remarkably varied tree collection that includes many noteworthy conifers. Quite a few private estates and home landscapes have notable conifers.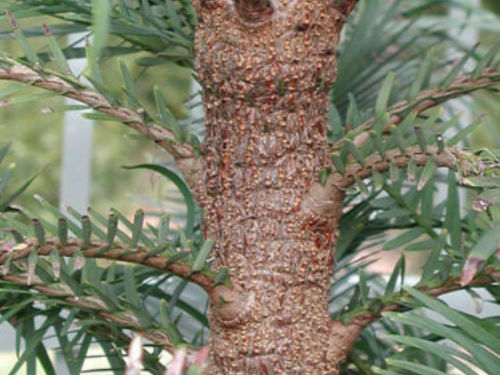 Woodlanders in the South
One private estate has an especially varied collection with many rare species from around the world; included are many Southern Hemisphere rarities such as Araucaria angustifolia, A. araucana, Afrocarpus falcatus, Podocarpus parlatorei, and Wollemia nobilis. Everything within a 4-mile radius of downtown Aiken is included within the Aiken Citywide Arboretum project area.
Efforts to locate, identify, and GPS a typical, outstanding, or sole example of every tree species within the project area is underway. The conifers have been largely completed, enabling one to pinpoint an example of many species. While various horticultural varieties of conifers are included, there has not been any special effort to pursue the endless variety of named selections and mutant forms popular with conifer collectors.
Aiken's collection, therefore, is species focused. We are proud of our tree program and pleased to have this opportunity to introduce a diverse collection of conifers growing in a region of the United States where most visitors may not expect to find them.

Text by Bob McCartney.
Bob McCartney and George Mitchell operate Woodlanders, Inc., an internationally known source for more than 1,000 kinds of rare and hard-to-find plants, located in Aiken, South Carolina.
This article was originally published in the Winter 2009 issue of Conifer Quarterly. Join the American Conifer Society to access our extensive library of conifer-related articles and connect to a nationwide group of plant lovers! Become a member for only $40 a year and get discounts with our growing list of participating nurseries in our Nursery Discount Program.
Comments