Conifers of Malaga, Spain
Discover the conifer diversity of the southern coast of Spain. This is part 2 of the author's horticultural adventure. Click here to read part 1.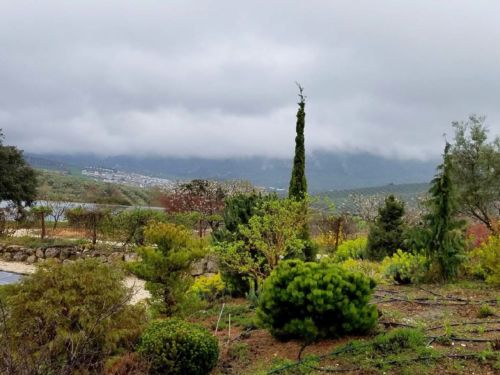 Our last horticultural stop was to the southern coast of Spain and the beautiful city of Malaga. Our hosts for the day were Mr. and Mrs. José Alba and their son Alejandro. Offering the same warm hospitality received from our previous hosts in the Azores, these were extremely gracious people who shared our passion for plants.
It also reminded me of our second visit to Spain, when we were hosted by (at that time) the only two American Conifer Society members in Spain, Mr. and Mrs. Luis Basté and Mr. and Mrs. Josep Vilaseca. Thanks to our common love of conifers, we are now good friends with these two ACS member families and are looking for them to visit us this year.
The Spanish Sojourn
After a drive of about an hour, we arrived at the Albas's summer estate in the mountains. Along the way, we learned that they are civil engineers and are working on a proposal to build the fourth longest tunnel in the world, in Colombia. It was fascinating to learn that a portion of the road and tunnels that we were traversing were designed by the family business. Upon arrival, we were invited inside and treated to an array of Spanish cheeses, ham, fruit and wine.
Covering 21 acres (8.5 hectares), Jardín Del Rosario (www.jardindelrosario.com) appears to be out of a movie set. The gently rolling hills are flanked by large, tree-covered mountains. As one enters through the large iron gate, there are numerous olive and cherry orchards. Nestled among them is a spectacular garden of over 5,000 taxon and some 22,000 different plants.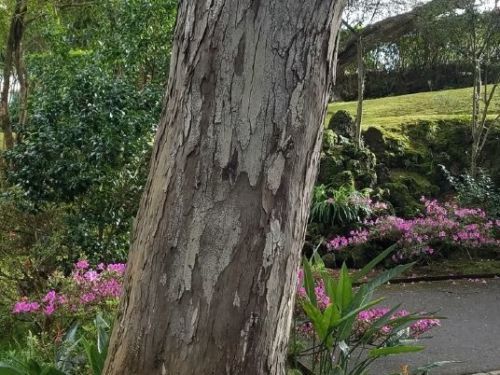 A Noteworthy Conifer Garden
From a conifer perspective, their most noteworthy collection is filled with many species of pines from around the world, such as the Chinese red pine (Pinus tabuliformis). Other conifers of note include Cupressus, Thuja, Cryptomeria, Juniperus, and numerous others. Comparatively speaking, this is still a young garden that will only get better as time goes on, and one could not ask for a better setting. It was clear to see that Mr. Alba is a connoisseur of rare plants, as well as a keen gardener.

At the conclusion, the entire family drove us to the white hillside village of Mijas, where they escorted Evelyn on a walking tour of the small Spanish village. This was followed by lunch at a chic restaurant along the Costa del Sol. If you are planning to be in Spain, you may email [email protected] to coordinate a visit to the garden.
We wish to thank each of the individuals referenced in this article for their hospitality and assistance in making this visit possible.
Taxus baccata Footnote
In preparation for this trip I had several personal communications with the director of the botanical garden on Faial Island, Azores. In our correspondence, he had informed me of a relic population of Taxus baccata, which had been declared extinct. Apparently, there are five plants remaining on Pico Island, from what was once widespread. Since we did not have the opportunity to visit Pico Island to see an in situ specimen, I am only including a brief mention.

Quoting from Biodiversity and Conservation, June 2010, Volume 19, Issue 6:
The leaves of the Azorean provenance were smaller than those of all other Taxus baccata described in literature; moreover, they have a higher stomata density and more numerous stomata rows. These features are all primitive, according to suggested morphological, evolutionary trends. We assume that sequence analysis of the Azorean population represents a different evolutionary line within Taxus. This suggests a more direct derivation from ancestors than provenances from Mediterranean and European regions. These individuals may be the last survivors of an ancient lineage, preserved in the Azores as part of the Macaronesian flora.

Photographs by Tom Cox.
Tom Cox is past president of the American Conifer Society and the founder and owner of Cox Arboretum and Gardens in Canton, Georgia, where he focuses on evaluating, selecting, and displaying plants from around the world that are hardy in USDA Zone 7b. He is also concerned with preserving critically-endangered plants.

This article was originally published in the Winter 2019 issue of Conifer Quarterly. Join the American Conifer Society to access our extensive library of conifer-related articles and connect to a nationwide group of plant lovers! Become a member for only $40 a year and get discounts with our growing list of participating nurseries in our Nursery Discount Program.
Comments