Conifers and Companion Planting
Find inspiration for your next conifer complements.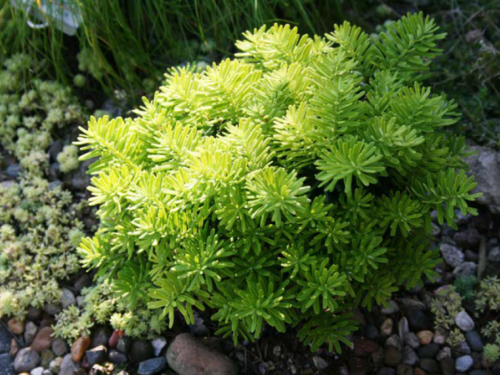 I am sure everyone who has heard my nonsense knows that the best companion for a conifer is another conifer. If you were to pick one, the best one to pick is your favorite. Of course, my favorite is whichever one I happen to be standing by at the moment. Right now, I happen to be standing by Abies koreana 'Cis', so that is my favorite at this moment.
My garden is small, so to get 350 conifers in there you have to like small. Now can you believe people like other things besides conifers, even me, so that is where the other companions come into their own. I like to break it down into five categories trees, shrubs, perennials, (somebody told me rock garden plants were really perennials regardless of how small), hardscape, and people, yes, people.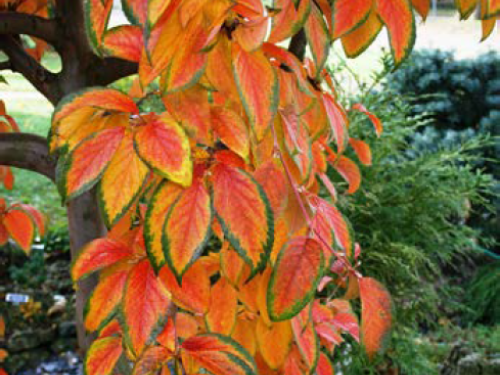 Companion Trees for Conifers
First, are the trees. I don't like many as "Conifer Companions," but I like some and I bet you can add some to my list. To start, I like small trees. There are not many of those, but an Aralia elata 'Variegata' fits the bill. You don't see many in the U. S. and I like things that not everyone has. Heptacodium miconioides flowers very late into September and the sepals, which are after the flowers, are better than the flowers. It also has white bark which gives it winter interest.
Another small tree you don't see too often is the Chionanthus retusus which I call my olive tree. If you have a female plant, it will get green fruit, (the olive part) that turns a very pretty blue. I like this tree quite a bit. My brother and I also have several Acer palmatum, but they are in a pot, which we bring in on our unheated enclosed patio to keep them somewhat warmer in the winter. You see, they are not hardy in our part of Iowa. My favorite tree is our Stewartia koreana, which is the best tree we have in the garden. It flowers around the 4th of July, has great fall color, and the bark is outstanding year around.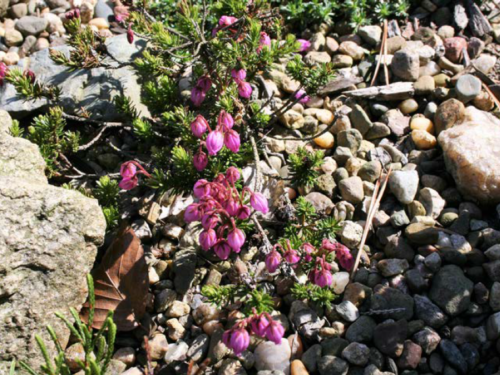 Conifers and Complementary Shrubbery
There are many shrubs and I like to stay to the smaller size. The small daphnes are outstanding, and I have about thirty of those. Also, the small heaths and heathers work well. Heaths for spring bloom and heathers for late summer bloom are both evergreen for year-round color. Stay with the smaller ones as some of the larger ones are too big for companions. You may be surprised, but some of the rhododendrons work well. Rhododendron 'Purple Imp' and Azalea 'Red Elf' are two that come to mind, plus they are evergreen.
Now if you like a challenge, Cassiope, Phyllodoce, and X Phylliopsis are what you want to give a try. They are very hard to find. They like acid soil and cool temperatures, which make them very difficult for me to grow in Oelwein, Iowa. There are other small shrubs that work well such as Gaylussacia brachycera, Kalmia latifolia, Pieris floribunda and many others that I bet you have given a try.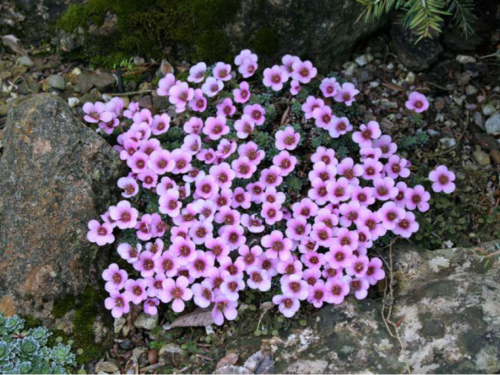 Rock Gardens Plants and Conifers
Now for rock garden plants, or is that perennials? It's up to you. There are so many of these it is hard to know where to start or stop. To make it easier, I have a rule of thumb; the foliage cannot be taller than six inches. The flowers can be taller, but the foliage no more than six inches. We can't have that foliage hiding our small conifers, can we? A few that I like are Androsace primmuloides 'Yunnanensis,' Aquilegia jonesii, Draba athor, Erigeron hybrida 'Canary Bird,' Gentiana acaulis and of course, the saxifragas. One that I especially like is Saxifraga 'Rose Marie' maybe because the flower stem is so short there is no chance to hide the conifer foliage. Now of course, there are many others that meet my stringent demands, but these are a few rock garden pants that I like.
From a gazebo to a path, everything that is not a plant is hardscape to me. You might have a fire pit, gnome house, bench, or a stream, that all qualify. My favorite we have is a teaching tree. Many things can be hardscape, but I think our teaching tree says it all. You can have a garden with a lot of neat plants, but you need hardscape to make it a true garden.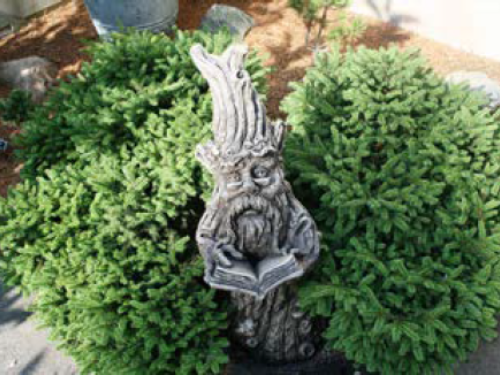 Conifer Companions
Finally if you remember, I said in the beginning you need people. You have to have people to make the gardening experience complete. These may be friends you have made at a regional or national ACS meeting.
It might be those that have visited your garden. Or it may be friends at a Rendezvous in the Bickelhaupt Arboretum. Wherever you make gardening friends, they are the best friends you will ever have. So even though it seems impossible, there are other things besides conifers you can have and I hope you have a few.
Text and photographs by Gary Wittenbaugh.

This article was originally published in the Winter 2018 issue of Conifer Quarterly. Join the American Conifer Society to access our extensive library of conifer-related articles and connect to a nationwide group of plant lovers! Become a member for only $40 a year and get discounts with our growing list of participating nurseries in our Nursery Discount Program.
Comments
Hi there,

I have just found your website, I live in the UK and new to gardening!

We have a big conifer tree at the bottom of the garden and when we moved in a couple of years ago there was so many weeds and overgrowth that it took me ages to clear. I now struggle to plant anything in that soil as it is so dry and full of roots and foliage. What do you recommend planting next to it? I would love some colour however it is also shaded somewhat by the fence. I am happy to send you a photo to see!

I hope you can help!

Tom Smith, UK