Conifers of the Azores
Discover the conifer diversity of the Azores archipelago. This is part 1 of the author's horticultural adventure. Click here to read part 2.
I have long had a fascination with conifer trivia. Some examples are:
Country with most pine species: Mexico
Conifer most common in the Southern Hemisphere: Podocarpus
Conifer with widest circumference: Taxodium mucronatum (T. distichum var. mexicanum) – El Árbol del Tule, Mexico
Only pine occurring in the Southern Hemisphere: Pinus merkusii in Sumatra
It was in this vein that I began my search for the most remote, naturally occurring (in situ) conifer on earth. Surprisingly, I could find no mention in any reference material. After some research, I reached the conclusion that it might be the Azores juniper (Juniperus brevifolia).

A Distinct Conifer
Native only to the Azores archipelago, J. brevifolia lies 800 nautical miles from the nearest non-island landmass (Portugal). Like other island endemics such as Juniperus bermudiana (Bermuda) and Juniperus cedrus (Canary Islands and Madeira Island), J. brevifolia occurs nowhere else. While certainly there are conifers growing in more remote locations, none would be naturally occurring.
In March 2018, Evelyn and I embarked on a journey that would take us to two of the nine islands in the Azores. Our first stop was supposed to be Faial Island and the Faial Botanical Garden, where we had arranged a meeting with the director of the Natural Park of Faial, Mr. João Melo.

Unfortunately, due to bad weather, our plans had to be altered, and we were rerouted to Terceira Island and the main port of Praia da Vitoria. Mr. Melo had kindly arranged for us to be met by two individuals from their Environmental Forestry Department, who then drove us up into the mountains to see and photograph wild populations of J. brevifolia.

An Eye-Opening Conifer Journey
A portion of the drive was on restricted roads that led us into a cloud forest. Along the drive, it was interesting to observe the various plant communities at different elevations (altitudinal zonation), where we had the opportunity to see much of the native flora such as heather (Erica azorica), laurel (Laurus azorica) and holly (Ilex perado ssp. azorica). It was exhilarating to realize that we were traversing areas possibly never disturbed by man—22% of the island is protected, and they take that seriously.
We also saw glaring examples of how non-natives can outcompete the endemic flora. A prime example is ginger (Hedychium gardeneranum), which originates from the Himalayas. Another invasive is Hydrangea macrophylla, which at one time was used as a border in pastures, as cattle do not graze it. By far the most invasive here is Pittosporum undulatum, which originates on the east coast of Australia.
It is slowly taking over much of the forestland. What really caught my eye was the heavily planted Japanese cedar (Cryptomeria japonica). First planted in the 1960s, it was being used all over the island as a windbreak, timber, erosion-control, as an ornamental, and as a road marker. We were told that it had adapted well and does reproduce. From my vantage point, it was overused.

Meeting the Azores Juniper
After an approximate 45-minute drive, we arrived at our first stand of J. brevifolia, situated on the slope of a steep mountain. The species is prettier than I had anticipated and obviously happy in its habitat. We were at approximately 2,600 feet (800 meters) in ¾-day sunlight. These specimens were around 6 feet (1.8 meters) with short, glaucous-green needles. As observed, the fruit was green, turning orange-red with a variable pink coating. The bark is a pleasing reddish color that peels in vertical strips on more mature trees.
Given its provenance, I would anticipate this species surviving a USDA Zone 8b. There are plants being successfully cultivated in Gainesville, Florida, at Dr. Jason Smith's University of Florida facility. While the species is listed as being vulnerable by the International Union for Conservation of Nature (IUCN) , traveling with the Forestry staff, I got the sense that it is in no imminent danger, and the Forestry Service staff is serious about protecting it, as well as other island endemics.
On the return down the mountain, we visited the Serra de Santa Bárbara Interpretation Centre, where we were given a tour and briefing about the geology, ecology, flora and fauna of the island, provided by highly-trained staff who spoke perfect English.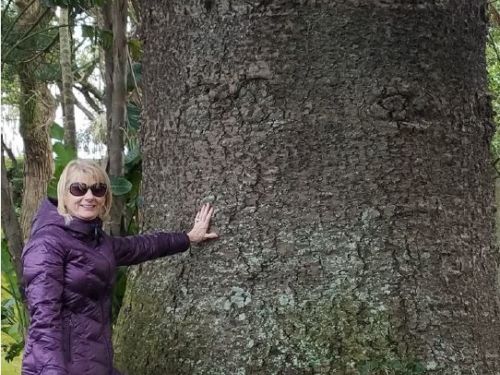 Our next stop was São Miguel Island and the capital city of Ponta Delgada. It is locally referred to as the green island. We were greeted by a most interesting individual, Mr. Joaquim Bensaude. Mr. Bensaude is a shareholder of a luxury line of hotels (Bensaude Hotels), including the Terra Nostra Garden Hotel, an Art Deco-inspired boutique hotel, set alongside a thermal pool. Here, we would have the opportunity to enjoy an in-depth tour of two very fine gardens.

Our first garden was Jardim António Borges, which is located about a mile from the city center of Ponta Delgada. Upon arrival, we were joined by agronomist and Camellia expert, Mr. João Sampaio. He would accompany us throughout the remainder of the day, and his botanical knowledge and warm personality only added to our enjoyment.
The garden was created between 1858 and 1861 by António Borges Medeiros, a wealthy businessman and prominent landowner, who was very interested in botany.

The Rare Conifers of Jardim António Borges
Entering the garden, I got a sense of the garden's history, as I noted huge specimens of many exotic conifers. Conifers such as Agathis australis, Araucaria heterophylla, A. columnaris, and Afrocarpus falcatus are as large as I've ever seen. Another of the garden's noble trees is the Indian rubber tree (Ficus elastica) with its wide-spreading, fluted trunk. This is a well laid out and easy to walk, free, public garden, now owned by the city. Reminiscent of the Buenos Aires Botanical Garden in Argentina, it's a great place to relax.
It was then on to the main event of the day. After an approximate 45-minute drive to the city of Furnas, we arrived at Terra Nostra Gardens. Upon our arrival at Terra Nostra, we were greeted by the head gardener's daughter and agricultural engineer, Carina Costa, who chauffeured us around in a golf cart. This was a rainy and cool day, but Carina's warm personality and knowledge of each plant made the visit even more special.
These gardens, containing numerous ancient trees, date back to 1775. In the 1930's, Mr. Bensaude's grandfather acquired the property and continued to add to the collection. Containing over 3,000 trees and shrubs, Terra Nostra Gardens (www.parqueterranostra.com) is, without doubt, one of the finest gardens we have ever visited in the world. It succeeds in merging the best in garden design with a plethora of horticulturally-interesting plants. Significant among these is a world-class collection of camellias, cycads, azaleas, rhododendrons, a fern garden, and the Ginkgo Avenue, where numerous mature specimens line both sides of an avenue. The Ginkgo Avenue is flanked by 47 majestic ginkgo trees and extends 886 feet (270 meters). What a sight this must be in autumn.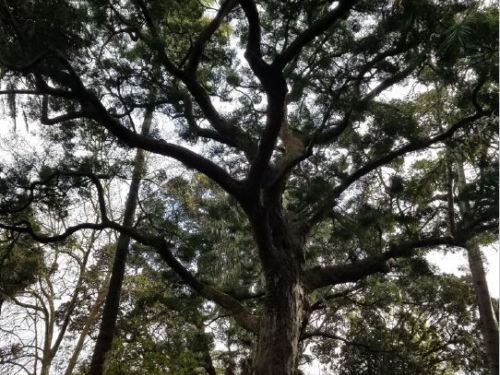 Terra Nostra's Conifer Path
Mature conifers are seen throughout the garden, including Sequoia, Cunninghamia, Cryptomeria, Metasequoia, Araucaria, Taxodium, and two rare 6-foot (1.8-meter) Wollemi pines (Wollemia nobilis). Accenting all of this are several thermal streams that meander throughout the property, terminating in a thermal pool where hotel guests were luxuriating.
At the conclusion, Mr. Bensaude and Mr. Sampaio hosted us for a splendid lunch in the hotel, where more talk of plants and travels too quickly filled the time. We committed to sending seed of the Mexican species of bald cypress (Taxodium mucronatum, a.k.a. T. distichum var. mexicanum), as it is not in their collection. These trees should flourish in this zone.
Before saying goodbye, we toured the island and stopped to photograph Europe's only working tea plantation. Given my interest in J. brevifolia, they drove us to see a specimen that is over 150 years old, planted at the entrance to a golf course. This was as good as it gets for a perfect day – great food, gracious hosts, and spectacular gardens. If your travels ever take you to the Azores, Terra Nostra and Jardim António Borges are must-sees.
Photographs by Tom Cox.
Tom Cox is past president of the American Conifer Society and the founder and owner of Cox Arboretum and Gardens in Canton, Georgia, where he focuses on evaluating, selecting, and displaying plants from around the world that are hardy in USDA Zone 7b. He is also concerned with preserving critically-endangered plants.

This article was originally published in the Winter 2019 issue of Conifer Quarterly. Join the American Conifer Society to access our extensive library of conifer-related articles and connect to a nationwide group of plant lovers! Become a member for only $40 a year and get discounts with our growing list of participating nurseries in our Nursery Discount Program.
Comments