Conifers and Aesthetic Pruning
Learn how to enhance the aesthetic appeal of your conifers through the art and craft of pruning.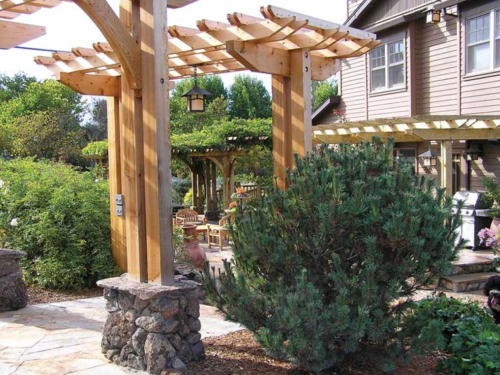 "Aesthetic Pruning embraces the creative interpretation of small trees and shrubs in the urban context. The living art form combines the artistic skills of the pruner, the essence of a tree, the science of horticulture and the needs of the clients and the surroundings." — Dennis Makishima
The diverse, often sculptural, attributes of conifers, the myriad of forms, textures and colors, add interest to any garden, and appeal to our sense of the beautiful, our aesthetic sense. In this article I would like to emphasize how the aesthetic appeal of conifers can be enhanced through the art and craft of pruning, specifically, through the principles of aesthetic pruning as developed by Dennis Makishima and promoted by the Aesthetic Pruners Association.
Let's break down the definition of aesthetic pruning as it relates to conifers, and you can make up your own mind!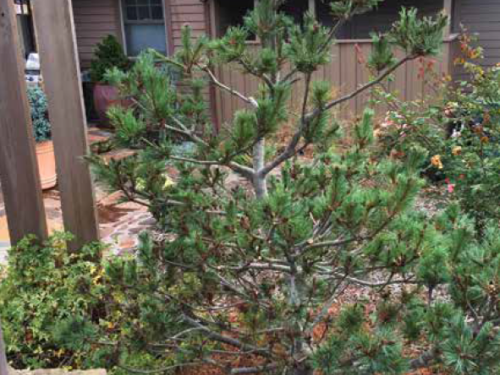 "Aesthetic Pruning embraces the creative interpretation of small trees and shrubs in the urban context."
Gardening is all about creative interpretation, and the woody plants that reside in gardens are no exception; indeed, they are often a garden's focal point. Woody plants have the ability to provide a story year-round. The bright yellows and blues of the conifers are stunning with a dark winter sky as a background. The new growth and cones in the spring, the steady background and structure in the summer and fall are only a few features to get us started. In both dramatic and subtle ways, conifers can express the wind, direct visitors to the front door, or lead your gaze towards the view of a water feature.
Do not be discouraged by reading "urban context" in the definition. We all know of collections that rival the Manhattan skyline in their density! Any garden where people interact on a personal level and scale matters (both practical and in design) should include aesthetics in the formula for long-lasting stewardship. For more on the importance of aesthetics in our lives, read a collection of essays edited by Ritu Bhatt called Rethinking Aesthetics, The Role of the Body in Design. This collection of essays is from a diverse field of professionals who make the argument "that aesthetic experiences can be nurtured at any moment in everyday life."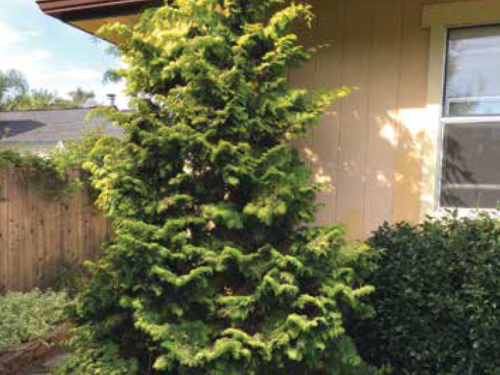 "The living art form combines the artistic skills of the pruner."
I can honestly say that each of my clients has a great "eye"; meaning, they see creativity, look for beauty, proportion, balance, movement and all of the artistic terms, with which we are familiar. (Even if they don't admit it to themselves!) To achieve those artistic elements successfully, one must develop skill. One must learn the growth habit of a tree, the reactions to pruning cuts in order to prune with design intent. Among my peers, we refer to this as developing our "craft."
How did I do it? Over many years, I completed all of the pruning classes offered at Merritt College and a 20-week, hands-on pruning class which was then offered by senior members Michael Alliger and Yuki Nara; as well as participating in the many volunteer events organized by the Merritt College Pruning Club, where more experienced pruners mentored the group. The most important aspect of this training was receiving feedback about goals, challenges, and execution. This was just the start of my craft development. For me, it will be a lifelong endeavor, and that is the beauty of it! Take all the classes you can find.
Experiment on your own trees. Get feedback.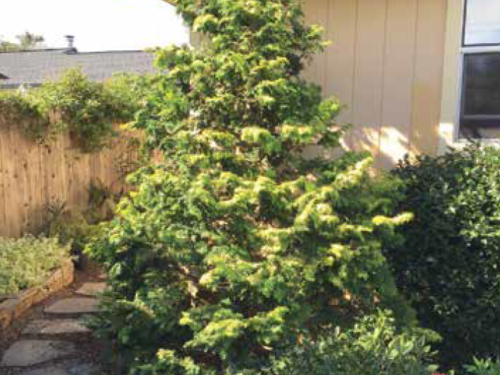 "The essence of the tree"
Defining the essence of a tree is something conifer lovers do on a regular basis. It is one of the reasons why I think so many coneheads appreciate aesthetic pruning. The essence of a tree is found among the many characteristics we love in our favorite cultivars, which include movement, age, grace, silhouettes, foliage, cones and bark. Conifers also offer an endless supply of surprises and reveals.
While the Pinus monticola 'Crawford' could be identified by its growth habit, needles, and bark; also, what happens when it grows out of its location, and the context of the garden changes around it? One option would be to tear it out and replace it. This is usually not a problem for conifer lovers who have too many trees in pots waiting to get planted, but another option is to see if the tree has potential character that can be revealed with pruning.
Not all trees have this potential. This one has subtle movement within the trunk. Nothing too dramatic, but then, for the location, it doesn't need to be. It will take a few years to work with the tree's natural growth habit to develop the branches, and get the proportion of the trunk and scaffold branches right with a balanced amount of foliage. The trunk is not fabulous, but with a little bit hidden and a little bit revealed, our imagination can take over and improve the trunk beyond its original potential. A living, growing tree is always changing. An aspect of the art and craft of aesthetic pruning which I particularly love is balancing the beauty that can be achieved in the present while imagining and planning for the possibilities of the future.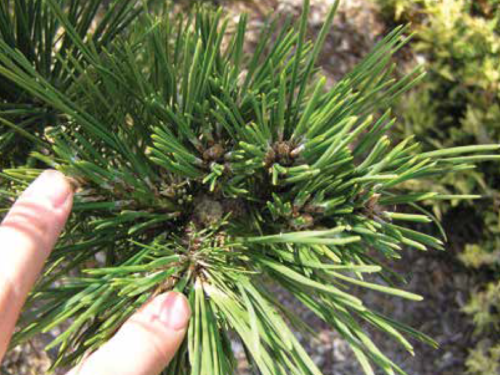 "The science and horticulture"
Understanding a tree's horticultural needs is paramount to aesthetic pruning. Understanding how a tree will respond to your pruning is critical to maintaining the health of a tree and to maintaining the integrity of the tree's design. Horticultural knowledge is essential and available through university extension programs, college courses, books and the Internet. In addition to learning from horticultural experts, aesthetic pruners are constantly using personal observations to assess growth, development and environmental conditions in the garden.
The example at right compares the bud growth from a Pinus thunbergii forma corticosa 'Hakuho' and a Pinus thunbergii 'Thunderhead'. The 'Thunderhead' has grown in popularity in Japanese-style gardens because it is vigorous and can handle conditions that would stress a species tree or other cultivars. It produces a thicker and more brittle branch and a copious amount of buds when candled. 'Thunderhead' responds well to autumn thinning cuts in order to keep its size under control while making room for next year's beautiful, fuzzy candles and long dark green needles.

Coneheads, hone your observations skills; trust what you see and what you know about your region and climate. Pruning tips you read may need to be adjusted to your region and cultivar, even if you are talking about the same tree.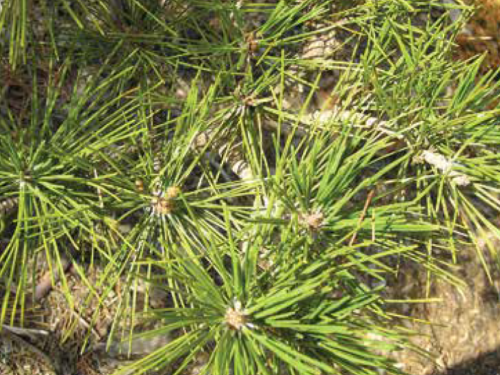 "The needs of the clients and [the] surroundings"
If you do not work in the field of pruning, you are your own client, and your garden, property and neighborhood constitute the local surroundings, within which your pruning takes place. Many questions can arise such as: do you have need for space, does your garden design require specific pruning, did you purchase a tree full of character, and, now that it is planted, is growing out of scale and losing its character, is it cascading to the left, but south is in the opposite direction, should you embrace asymmetry when the perennials have shaded out the bottom corner of your conical Picea.
Look thoughtfully at your surroundings and garden context. Learn to assess your garden, and your pruning will be balanced and unified. Even if you consider your plants a collection rather than a garden, your trees relate to each other, they relate to sun, wind, viewpoints and scale. If your tree is a focal point in the garden, it relates to the context around it.
Aesthetic pruning as outlined above is a technique with universal application. Unlike very specialized topiary or Niwaki pruning, its principals apply to any woody plant, in any horticultural setting and garden style. I was recently reminded by Michael Alliger in a keynote speech he gave at the APA's 2016 pruning intensive workshop in Oakland CA, that fine art such as bonsai and Japanese garden design have been around for centuries, and that aesthetic pruning is in its infancy. The direction and development of Aesthetic Pruning as an art and craft is evolving and has an exciting future. I think conifers will lead the way!
Useful references
Photographs by Maryann Lewis.
Maryann Lewis is a registered architect and APA certified aesthetic pruner. She co-founded the Aesthetic Pruners Association in 2010, gives presentations and workshops on aesthetic pruning and owns an aesthetic pruning business in Portland, Oregon. She can be reached at [email protected].

This article was originally published in the Spring 2017 issue of Conifer Quarterly. Join the American Conifer Society to access our extensive library of conifer-related articles and connect to a nationwide group of plant lovers! Become a member for only $40 a year and get discounts with our growing list of participating nurseries in our Nursery Discount Program.

Comments