Conifer Winter Damage: Developing Cold-Hardy Cryptomeria japonica
Follow the search for a winter-hardy conifer for the deep south.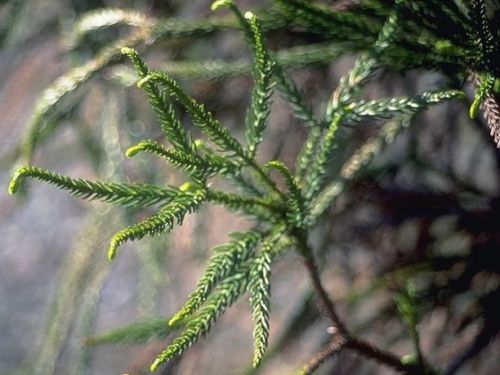 "I had the honor of receiving one of the two scholarships awarded in 2008 by the ACS. In addition to the scholarship, the Society was gracious enough to support my attending the 2009 National Meeting in Hauppauge, N.Y.; for which I am greatly appreciative to all members.
Between trips to some of the most amazing and historic gardens in the U.S., I was afforded the opportunity to share a portion of the research that I conducted at the University of Georgia Tifton Campus with Dr. John Ruter. The following is a summary of that presentation and discusses an evaluation of Japanese cedar cultivars for performance in USDA Zone 8a as well as development of induced polyploids in an effort to develop a non-winter browning form of cryptomeria." – Ryan Contreras
Conifers in the South
Tifton, Georgia is a hot place; period. It is located in the coastal plain region (USDA Zone 8a) and is strategically located far enough away from both the Gulf of Mexico and the Atlantic Ocean such that it receives little of the moderating effects of either. We experience over 100 days per year at or above 90 °F. However, we also have freezing temperatures and reached a low of 17 °F during the winter of 2008-09. Winter skies are often clear with little cloud cover and low temperatures; a perfect combination for photoinhibition which will be discussed below.
The general dogma has been that most conifers are not adapted to USDA Zone 8a; however, the conifer collection in Tifton is helping to dispel the miscon- ception that conifers can't be grown in the Deep South. Other collectors such as Ron Determann, Tom Cox, and the late J.C. Raulston also have shown that there are more coniferous options for the south than Leyland cypress.
Japanese cedar (Cryptomeria japonica) is one species that has received attention as an alternative for Leyland cypress due to its excellent form, dense foliage for screening, rapid growth, and reduced susceptibility to bagworm infestation. However, as we are all aware, there is no such thing as a perfect plant and Cryptomerias are no exception. One major problem during the winter is that Japanese cedar turns an unattractive reddish-brown color which causes gardeners who are unfamiliar with this characteristic to think they have a dead plant on their hands.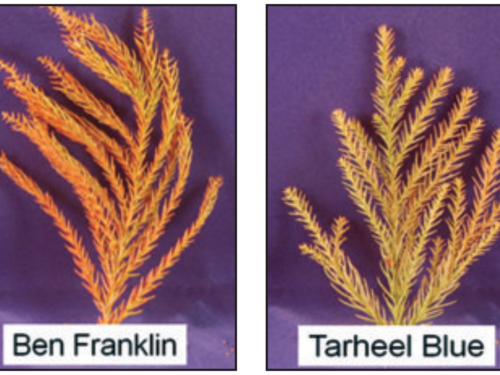 Winter Browning in Cryptomeria japonica
Winter browning occurs due to a phenomenon called photoinhibition that takes place under periods of high light and low temperature. Research has shown that browning only occurs in sun-exposed leaves and that the pigment responsible for the off color is the carotenoid rhodoxanthin. Pigments such as rhodoxanthin reduce damage from excess light energy and provide a protection for the photosynthetic apparatus.
Plants have a number of other mechanisms for protection such as reduction of chlorophyll and increasing antioxidant enzyme activity. The latter mode of protection is where we have the greatest opportunity for manipulation and development of new plants. Damage during photoinhibitory conditions occurs because the enzymes in downstream reactions (Calvin Cycle) are slowed due to low temperatures resulting in the production of free radicals.
Free radicals cause oxidative damage and can destroy DNA, proteins, and lipids. Antioxidant enzymes, such as superoxide dismutase (SOD), protect plants by interacting with free radicals to ultimately return them water and oxygen. Increased levels of SOD have been shown to reduce damage to the photosynthetic apparatus and tetraploid forms of Japanese cedar were found to have a six fold increase in SOD activity.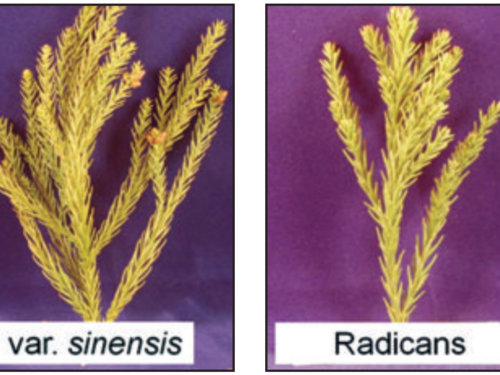 Seeking Non-Winter Browning Mutants
Tetraploids are plants with four sets of chromosomes instead of the "normal" diploid condition of two sets. These individuals were identified in the forest nurseries of Japan by their thickened and twisted leaves and by their non-winter browning character; our trait of interest. Unfortunately, polyploids do not make useful timber trees and have been discarded in favor of individuals that yield more board feet.
At the University of Georgia Tifton Campus we conducted quantitative evaluation of 16 clones of cryptomeria including 15 cultivars and var. sinensis. The goal was to identify superior individuals for the deep south by measuring the amount of chlorophyll and carotenoids and assigning a color rating based on visual observation (1 = brown/red/yellow; 5 = green). Redfire (Phyllosticta aurea) is also a problem on cryptomerias in the Deep South; particularly on slow growing/dwarf forms, and incidence on cultivars was noted.
We also performed experiments to develop tetraploids in hopes of producing a non-winter browning form. Comprehensive results will not be presented here for the sake of brevity; however, a brief description of performance of the 16 taxa will be included followed by findings of the experiments to induce polyploidy. For a more complete description of most taxa included here, see Rouse et al., HortTechnology 10(2):252-266. Synonymy among cultivar names are indicated in parentheses after the cultivar name the plant material was received under.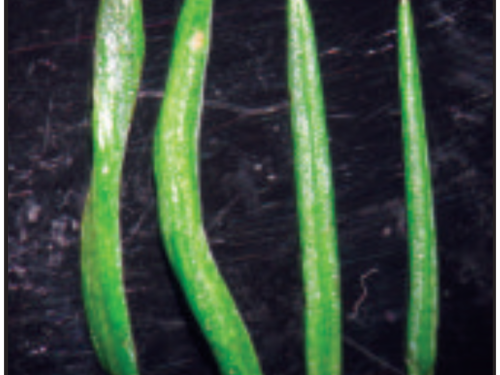 Cryptomeria japonica Cultivars
'Araucariodes': Does not handle summer heat well; exhibits substantial branch death. After 11 years in the ground has reached a height of 4.0 m (13.1 ft).
'Barabit's Gold': Yellow foliage form that never turns the attractive golden color in Tifton. Planted in 2006, after two years in ground 2.0 m (6.6 ft).
'Ben Franklin': Vigorous growth. Poster child for winter-browning; turns rust- brown. 8.3 m (27.2 ft) after 11 years.
'Black Dragon': Approximately 80% dieback due to redfire. Sports readily; must have pure material for propagation. 3.3 m (10.8 ft) after 11 years.
'UGA5-15': New selection made by Tom Cox for rapid growth; Tom indicated that it remains green during winter in Canton, Ga. (USDA Zone 7a) and is 16.8 m( 55 ft) after 14 years. Planted in Tifton evaluation in 2008 and has performed as well as the industry standards thus far with no incidence of redfire.
'Cristata': Unique cockscomb branches; interior dieback prevalent. 4.0 m (13.1 ft) after 11 years.
'Gyokruga' (= 'Giokumo', 'Gyokruyu'): Best performer of the slow growing forms. Remains green in winter with less interior dieback than other slow growing cultivars. 2.5 m (8 ft) after 11 years.
'Radicans': Newly planted in 2008; along with 'Yoshino' it has become the industry standard in southeast U.S. Slower grow- ing than 'Yoshino' but remains greener during winter.
'Rasen'(= 'Spiralis', 'Granny's Ringlets'): Novel twisted foliage, very dark green foliage in summer. Intermediate growth rate. 6.1 m (20 ft) after 11 years.
'Sekkan': Yellow foliage form that has a chlorotic appearance in summer and is brownish in winter. 5.6 m (18.3 ft) after 11 years.
'Tansu': Moderate growth rate with short, stiff leaves; shrub-like appearance. Dark green in summer; fair winter appearance with limited interior dieback and redfire. 5.5 m (18 ft) after 11 years.
'Tarheel Blue': Excellent form and attrac- tive blue foliage in summer; poor winter appearance. 8.3 m (27.2 ft) after 11 years.
'Tarheel Plum': Newly added to the trials; thus far has not been impressive. Does not develop the reported purplish foliage in Tifton.
var. sinensis: Similar to 'Yoshino' with longer leaves and more open growth; does well in Tifton. Has ground layered in our trials. 6.4 m (21 ft) after 11 years.
'Yaku': Only uppermost branches are surviving due to redfire. 6.2 m (20.3 ft) after 11 years.
'Yoshino': Industry standard for fast growing, conical form. 8.2 m (26.9 ft) after 11 years.
Conifer Trial Results for Winter Browning
From the trials in Tifton the recommended cultivars for USDA Zone 8a are 'Gyokruga', 'Yoshino', and var. sinensis. 'Radicans' has remained greener than many cultivars; however, it appears to be highly susceptible to redfire. It has only been in our trials for two years and is already showing a large amount of dieback. 'Tansu' also has utility as a moderately slow growing form, although winter color is not as desirable as 'Gyokruga' and the form is not as good.
Other slow growing cultivars have exhibited extensive branch death due to redfire. UGA5-15, the selection from Cox Arboretum and Gardens, has also shown potential but requires additional evaluation to determine if its performance in Zone 8a will be similar to that seen at Tom's. Other cultivars that were planted in 1997, but died prior to the current evaluation due to redfire include 'Rein's Dense Jade', 'Ikari', 'Globosa', and 'Vilmoriana'.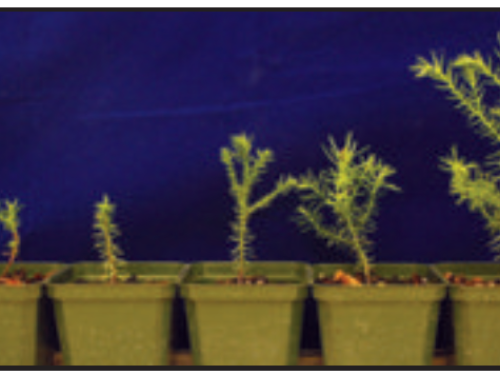 Developing an Evergreen Evergreen
To induce polyploidy, nine different experiments were conducted. These experiments included treating stem cuttings, seed, and seedlings with various combi- nations of colchicine, oryzalin (Surflan®), DMSO (an adjuvant), and various surfactants. After numerous ineffective treatments, a long-term treatment (30 days) of oryzalin in combination with a surfactant was applied to approximately 600 seedlings at the cotyledon stage.
Two-hundred thirty-seven seedlings that had thicker, twisted needles were transplanted and evaluated for induced polyploidy. Of these seedlings, 219 had cells that were tetraploid, 197 of which were solid tetraploids. Five months after treatment, a subset of the tetraploids were reevaluated and found to contain only tetraploid cells; indicating that over that time they were stable. However, evaluation over numerous years is necessary to determine their long-term stability and ornamental potential.
Overall, tetraploids exhibit morphology similar to previous reports, including thicker and twisted needles than the wild-type; however, there was a range of habit and growth rate among them. Ultimately, we hope that this results in a series of various forms from the very dwarf, to vigorous specimens that remain green in winter and help promote what a great plant Japanese cedar is.
Text and photographs by Ryan Contreras and John Ruter.

This article was originally published in the Winter 2010 issue of Conifer Quarterly. Join the American Conifer Society to access our extensive library of conifer-related articles and connect to a nationwide group of plant lovers! Become a member for only $40 a year and get discounts with our growing list of participating nurseries in our Nursery Discount Program.
Comments