Transplanting Your Conifers
Find out how to transplant your garden to its new home.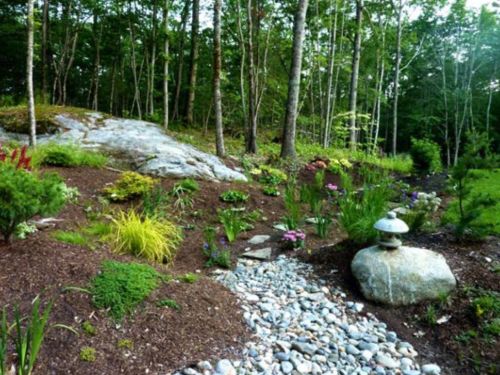 Uprooting the Conifers
Two years ago, we decided to leave our home of 35 years in central Maine. We planned to build a new place for our retirement, one closer to one of our sons and his family.

Living for so many years in one place, a gardener can create a lot of garden. And in the last 12 years or so, I had contracted Addicted Conifer Syndrome. I had collected a lot of treasured trees I did not want to leave behind, especially with no guarantee that a new owner would care about them, or even worse, might even want to destroy them. My husband and I resolved to move and transplant as much as we could to the new property.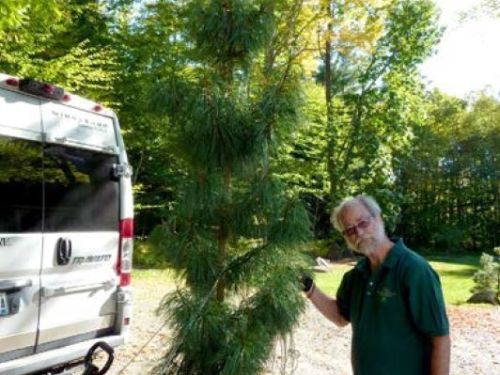 Our new home was not scheduled to be finished until December. That meant that we would have to create a new conifer garden while the house was under construction, and that we would have to transplant trees before the ground froze.
I began our search of transplant candidates by using my spreadsheet of my existing plants and marking the ones that I thought would be possible to dig. Since perennials can be split easily in spring with no loss to the appearance of a garden, I also included many companion plants.

Then, we eliminated anything which had been in the ground for 8 years or more. We also flagged some trees that we thought might be at risk if transplanted, or would concern any new owner because of its location, such as a pine growing way faster than I had anticipated it would or any tree too close to the house.

Still, that left a lot of trees.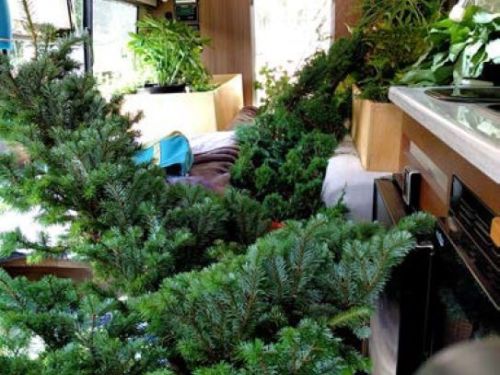 Conifer Count
The total to be moved exceeded 125 plants, of which 58 were trees. The trees were mostly conifers and a few Japanese maples. We dug a few trees every week throughout the summer. Not all went smoothly. Some trees suffered considerable loss of roots, especially those in place for multiple years. Some also had been grown in spots, which made digging awkward. These trees received extra care all summer and after transplanting.
In order to get a conifer garden laid out on the new property, we hired Lee Schneller Fine Gardens of Camden, ME. Lee had designed a Japanese-style garden for us years ago at our existing home. We were not doing a Japanese garden this time, but we liked her aesthetic sense and style of working. We met at the new property, while the foundation was being dug. We devised a plan for a dry rock stream to border the woods and culminate in a wet zone, so as to take advantage of the slope of the property.
Before we could get the designer and the backhoe/bulldozer expert together to lay out the dry stream, 6 weeks had elapsed. Meanwhile, we kept digging, and potting, and watering, and tending, and moving plants from one property to the other.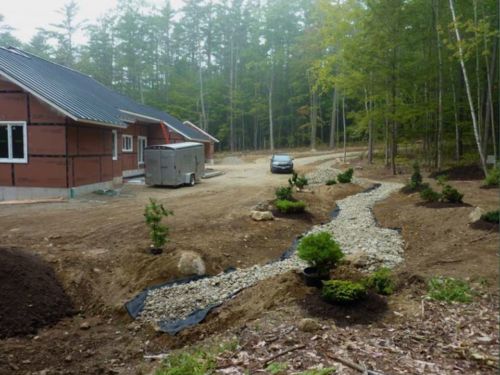 Shaping the Conifer Dream
Construction day finally arrived, and we watched the dream begin to take shape. They dug the bed for the stream, laid in the weed barrier, and piled on stones. At the end of the stream, a large hole was dug to hold extra soil for the wetland plants. This hole would slowly drain down the hill, and retain water long enough to keep wetland plants happy.
By this point, we had moved most of the pots to the new property, and the crew spent two days getting the holes dug in the rocky soil, adding topsoil, and placing the plants. Our mission now was to keep everything alive. We watered weekly and created shade barriers for the more challenged trees. Fortunately, the well had already been dug. The only trick to watering was to make sure we were on-site often enough.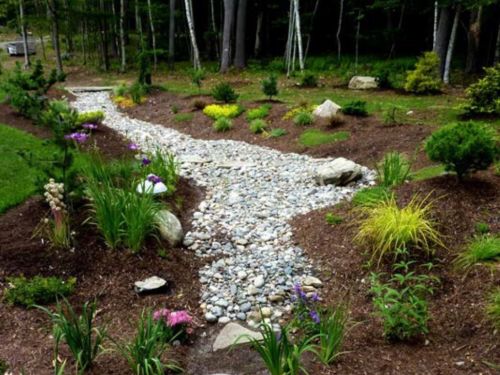 Conifer Work in Progress
We had a huge rain storm in September, which flooded the entire front yard with about 4 inches of water. It turned out that the dry stream was not quite at the right slope to drain the yard properly. As a result, the front yard had to be dug up. The drainage pipe was laid, allowing water to empty into the wet zone. This is an example of the perils of landscaping before the house is built.
Over the first winter, we lost 4 trees. We predicted 3 would die, as these trees had not come out of the ground easily, and 1 was unexpected. On the other hand, some lived which I did not think would make it. Our garden is still just beginning, but it has a lot more trees than we otherwise could have had. We are excited about watching the garden grow, and about adding to our landscaping, all of which is a lot easier now that we live here!
Photographs by Wynne Keller; drone photographs by Peter McNaughton.
This article was originally published in the Spring 2019 issue of Conifer Quarterly. Join the American Conifer Society to access our extensive library of conifer-related articles and connect to a nationwide group of plant lovers! Become a member for only $40 a year and get discounts with our growing list of participating nurseries in our Nursery Discount Program.
Comments