Conifer Gardening with Colors and Texture
Gardening with conifer colors and texture in mind creates a new dimension to your landscape.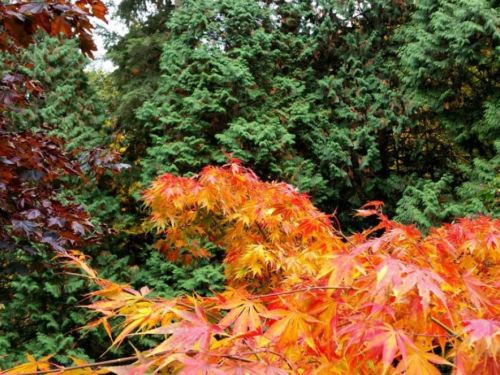 The keynote speaker for the second evening of the 2018 American Conifer Society National Meeting in Raleigh, North Carolina last summer was local plantsman, Tony Avent, the owner of Plant Delights Nursery. Presenting his talk entitled "Landscaping for Collectors" at the meeting, Tony shared images from 30 years ago, documenting the early days of the purchase of his first home and his adventures in gardening with conifers.

The presentation revealed the change of his property from a blank canvas into a garden with intention. The before and after images demonstrated how his relationship with conifers began. One of his earliest designs incorporated just three small conifers.
Gymnosperms would prove to play a major role in his horticultural career and would become a trademark of his conifer gardening designs. From my visits to Plant Delights Nursery and gardens on the meeting tour, along with additional visits to locations near my home in Seattle, I have developed suggestions for ways to create interesting and colorful gardens.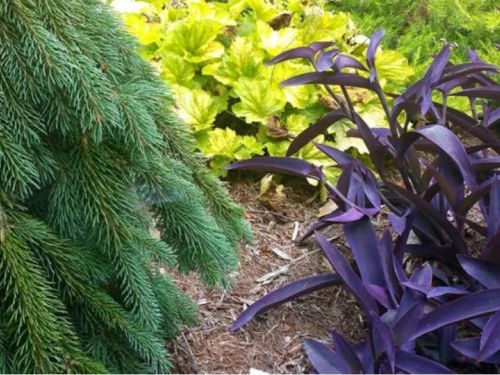 Gardening with Conifer Colors in Mind
Contrast is a way to increase interest in a planting arrangement; be it a pot, a small bed, or a rolling landscape. Contrast necessitates choosing a variety of plants for color, height, texture, and shape; all of which conifers can provide.
Using color contrast is a solid way to gain attention in your conifer gardening. For example, an Abies nordmanniana 'Golden Spreader' (golden spreader Nordmann fir) and a Picea pungens 'Montgomery' (Montgomery Colorado blue spruce) planted together demand attention and provide impact, which are not delivered by repetitious planting in typical landscapes.
A design might contain an entire bed of contrasting purple foliage, such as Tradescantia pallida (purple-heart), dotted with lemon-yellow conifers, like Chamaecyparis obtusa 'Fernspray Gold' (golden fernspray Hinoki cypress).
However, when arranging plants for color, a better approach would be to relegate a few areas for the installation of contrasting elements. The areas in between can then be used as vehicles to guide the eye smoothly from one place to another. Related colors of varying intensities tie the areas together, while keeping in mind the adage that less is more.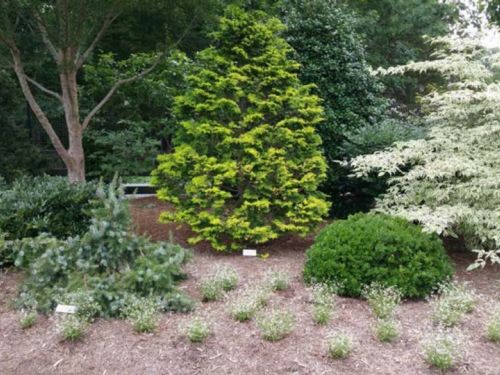 Conifers: Small and Tall
Differing heights are another way to liven up your planting bed. Consider height and proportion in choosing conifers. Tall conifers lined up in a row, like soldiers at attention, appear rigid and regulated. If the goal is to guide the eye from a taller to a smaller specimen, choose a selection of conifers which sweep down to a ground cover. The conifers offer a wide, horizontal structure.
Transitions are integral to the overall composition, also. They can be harsh, as in pairing Cupressus sempervirens 'Totem' (totem Italian cypress) with Juniperus horizontalis 'Bar Harbor' (Bar Harbor creeping juniper), from tall and thin, immediately reduced to wide and flat.
That same 'Bar Harbor' can also sweep up to a Pinus mugo (mugo pine), the branches of which lead the eye upward to an emerging Chamaecyparis obtusa 'Mariesii' (Maries' Hinoki cypress). Experience with plants allows the gardener to be better able to demonstrate skill in creating a more relaxing composition.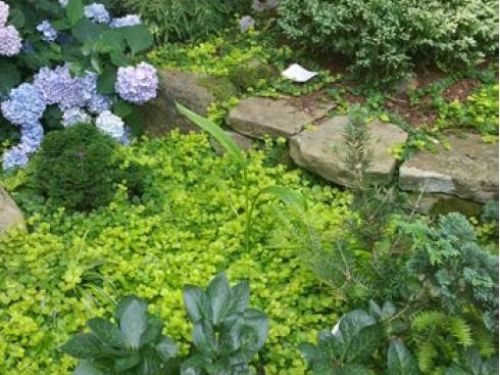 Titillate with Conifer Texture
Textures in the garden can also highlightwinter interest. For example, the variety of shades of green aremany. With little other than conifers to view, the characteristics of each plant can pop, even in a variegated, green palette.
Other colors add depth to the overall picture. Sunlight will vary on gold-tipped cultivars, even if in the shade. A bit of white on freshly-emerging stems reveals new growth. As temperatures begin to rise, conifers bring the finest displays of color. Tips burst onto the scene with soft yellows, apple-greens and chartreuse, which, in turn, add finely-detailed color and texture to the design, not to speak of the varied hues of the female cones.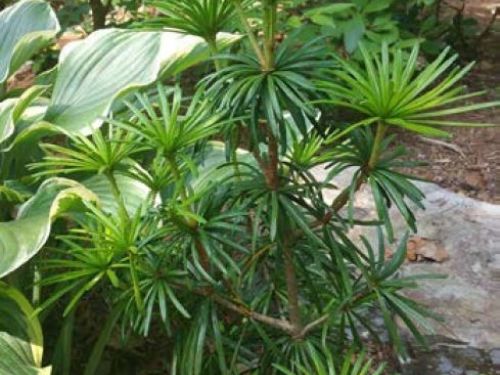 Looking at the Bigger (Garden) Picture
Each genus of conifer has a different, overall look. Cryptomeria japonica 'Spiralis' (spiral Japanese cedar) has branches which form twisted ropes of ringlet-like foliage, whereas Picea omorika (Serbian spruce) stands straight and tall, with lower branches, which weep with age.
Picea pungens 'Glauca' (Colorado blue spruce) has a horizontal structure, which speaks of strength. Chamaecyparis obtusa (Hinoki cypress) shows off swirling, fan-shaped leaves, which, from afar, imply movement. Sciadopitys verticillata (Japanese umbrella pine) opens upward and outward, inviting the eye to follow.

Every conifer has a variety of textures and subtleties, even within a single genus. Simply look at a list of C. obtusa (Hinoki cypress) specimens alone and appreciate the wealth of plants to investigate!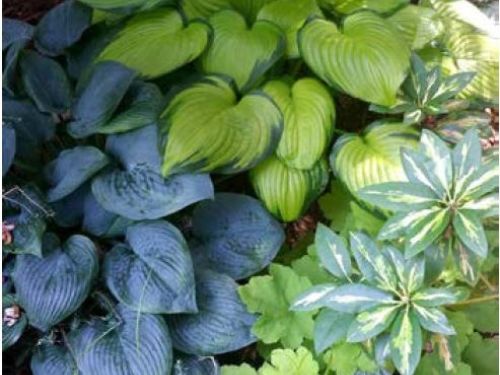 The overall form of conifers is worthy of consideration, as well. Think about contrasting colors, texture, and height. Tall conifers can be skinny, plump, or airy. Short, rounded, shrub-shaped specimens can be open and lacy, or solid and thick. Does the specimen weep, curve upright, or maintain the same shape, simply growing wider and taller?
Although it is better to situate conifers in the right place from the start, they can be moved about easily, as the garden expands. When it comes to designing a garden, nothing is written in stone!
As I look back at the gathering of last summer in Raleigh, I appreciate that Tony Avent provided examples to ACS attendees to consider when designing a landscape, no matter how large or small that landscape is. May the thoughts and photos I have presented be further inspirations for use of contrast in landscape design.

Text and photographs by Mary Warren.

Mary Warren lives in Seattle with her husband, Dan Gurney. They are co-owners of Gardening Artist. Mary also serves as head gardener at Bramble Bump-JM Cellars Winery in Woodinville, Washington.

If any ACS members would like to share pictures of scenes like those in the article by Mary, please send them to [email protected].

This article was originally published in the Spring 2019 issue of Conifer Quarterly. Join the American Conifer Society to access our extensive library of conifer-related articles and connect to a nationwide group of plant lovers! Become a member for only $40 a year and get discounts with our growing list of participating nurseries in our Nursery Discount Program.
Comments