Conifer Fungal Diseases and How to Prevent Them
ACS members share their discoveries of fungal pathogens in conifers.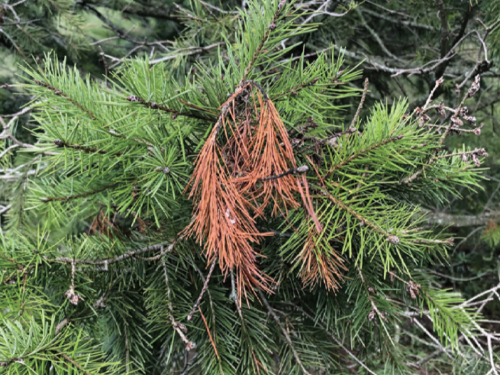 In a Summer 2019 CONIFER QUARTERLY article, Leah Alcyon asked what was going on with needle cast on her Pinus aristata (Rocky Mountain bristlecone pine). She discovered black dots on the needles of her plant that proved to be a fungus. Her inquisitiveness actually identified for ACS members what researchers at universities in the US had identified in as early as 2006.
Leah discovered that her bristlecone pine was suffering from Rhizosphaera needle cast (Rhizosphaera kalkhoffii). Further investigation also revealed the telltale black dots of that fungus on Pinus sabiniana (gray pine), Pinus jeffreyi (Jeffrey's pine), and Pinus wallichiana (Himalayan white pine).

She widened her search and photographed a Pinus sylvestris (Scots pine) at the home of a neighbor. There were black dots on the stem of the Scots pine, like the fungus fruiting bodies on the stems of her bristlecone pine. She did not know it at the time, but what she observed and photographed was neither Rhizosphaera nor Stigmina needle cast.
That is where I come in.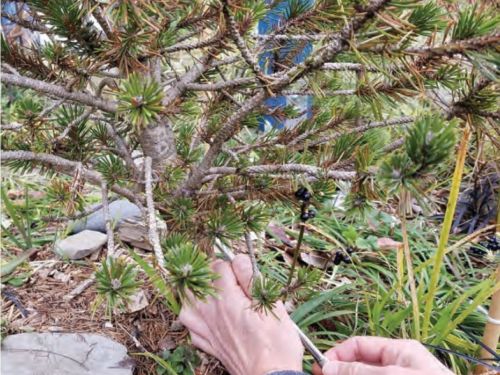 Piecing Fungal Discoveries Together
I also wrote an article for the Summer 2019 CONIFER QUARTERLY (pp. 27-30) on fungi attacking conifers. The damage has been pretty extensive among my trees. Upon inspecting my failing conifers (21 in number), I also found the fruiting bodies of Rhizosphaera kalkhoffii on the needles.
Next, I noticed that there were two kinds of black dots. R. kalkhoffii looked neat, like round bowling balls. The second kind of black dots were splotchy, similar in appearance to spiders, making the needles look "dirty." I googled Stigmina lautii, the second fungus Leah discussed. An MSU Extension report appeared.
Dennis Fulbright, Department of Plant Pathology at Michigan State University, pointed out that the "black splotches" indicate the presence of Stigmina lautii.
Discovering a New Conifer Fungal Pathogen
Then I thought, what about the fungus Leah photographed on the stems of both the Scots pine and her bristlecone pine? A different fungus or just Stigmina on the stems? Could two distinct fungi be attacking the trees?
Leah did not reveal a third species of fungus, and none of the agencies that she contacted reported anything either, even after she sent them samples. She photographed round, smooth, fruiting bodies on the trunks and stems of two conifers.
What I found is that a third fungus is attacking conifers. In 2006, in Tree Talk, Jim Walla, a forest pathologist, and Kasia Kinzer, a plant pest diagnostician, at North Dakota State University of Agriculture and Applied Sciences in Fargo, ND, identified those black dots on conifer stems as Setomelanomma rostrata.
Setomelanomma fungus attacks conifers, cereals, and grasses. This fungus appears also as black, ball-shaped, fruiting bodies, like those of Rhizosphaera kaklhofii, except that Setomelanomma grows on conifer stems and trunks.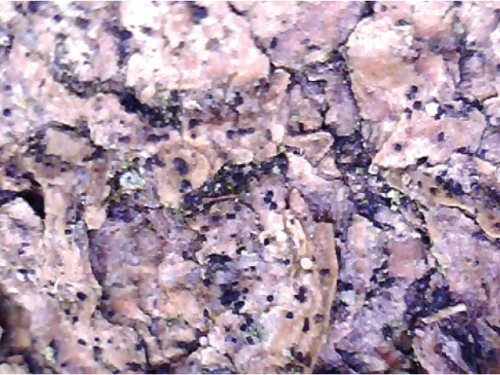 Conifer-Attacking Fungus: Setomelanomma rostrata
In 2008, Michigan State Extension researcher, Dennis Fulbright, also confirmed the existence of the Setomelanomma fungus. Thus, Leah inadvertently uncovered a third conifer-attacking fungus. Kudos to Leah!
The researchers at NDSU do not say very much about the fungus in their report, other than to ID it. They do, however, mention that fungicides on the market can treat Rhizophaera but not Stigmina, and vice versa, but nothing about treating Setomelanomma.
On the other hand, Fulbright lists 5 ways to minimize Setomelanomma, Rhizosphaera, and Stigmina:
Choose trees appropriate for the site
Buy high-quality planting stock
Plant with proper spacing
Do not mulch up to the trunk
and
Water during dry periods. I planned to be more exact: site the conifer in a spot that drains well, so that the plant does not sit in water.
Phomopsis Tip Blight Fungus
The fourth species of fungus attacking conifers is Phomopsis juniperovora (Phomopsis tip blight), identified in 1917! Phomopsis causes the new growth on conifers, both on seedlings and mature specimens, to turn brown and wilt.
The infection begins with the germination of asexual conidia (asexual, non-motile spores of a fungus, also called mitospores), borne from pycnidia (asexual fruiting bodies produced by mitosporic fungi). The mycelia, the vegetative parts of a fungus, move inward down the branch and eventually into the main stem.
In order to check the spread of this fungus, the blighted tips should be removed and destroyed. You must also sterilize any pruning tools to avoid the spread of the pathogen (a very good IPM practice).
Researchers recommend choosing resistant varieties and spraying new growth with fungicide until the plant(s) has (have) matured.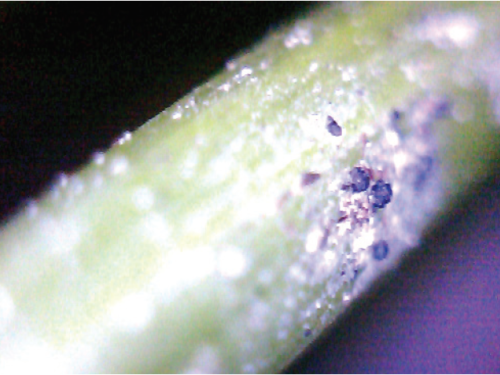 Seeking Fungus-Resistant Conifers
I have never seen a plant tag labeling a plant as "Phomopsis-resistant." It is possible that, since 1917, certain conifers might have become resistant, or been even bred as such, but my now 15- feet tall Pseudotsuga menziesii (Douglas-fir), planted in 2003 as a 5-footer, did not come as a Phomopsis-resistant plant.
All of the tips of this Douglas-fir are limp and browning for the third year running. Unless I scale a very tall ladder—or rent a cherry picker—to remove the blighted tips, neither of which I will do, I am going to have to take that tree down.
Once the tree is felled, I will cut off the infected tips and cut up all the branches, seal the tips and pieces in paper garden waste bags, and transfer everything to my waste collector for disposal. The trunk of the tree will be cut up and burned.
My advice: caveat emptor (buyer beware)! Read the plant tag and hope that the plant you have chosen is Phomopsis-resistant, or resistant to any kind of fungus, for that matter!
Fungal Attacks: Conifers to Avoid
Phomopsis juniperovora is known to attack:
Stressed trees are more likely to fall victim to opportunistic pathogens or insects. Whatever the stress-producing agent, significant numbers of conifer species are succumbing to fungi. Every living organism on Earth is programmed to die, but the acceleration of the demise of some conifers comes directly from fungal infection.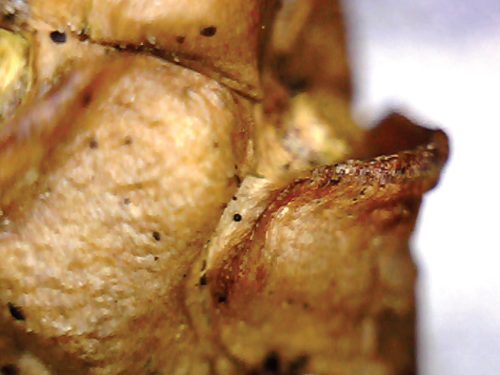 In an NBC News report by Jacelyn Jeffrey Wilensky, climate change, insect invasion, tree death, and deforestation are noted to increase the release of CO2. As a result, the amount of that greenhouse gas balloons and causes an ever-increasing hostile environment to life.
Add to that what Jill Wegryzn (University of Connecticut Stress Genetics professor) writes about the weakening of the immune systems of trees through drought and weather extremes, and certain of our conifers face serious challenges.
A former colleague of mine at Adrian College, Dr. Craig Weatherby (Emeritus Professor of Biology and Environmental Studies), has been studying box turtles (Terrapene sp.) all his professional life.
I once asked him why he dedicated his life to those animals. He immediately replied: "Because the way the turtles go, humans will go." Box turtles are now an endangered species.
Comments