How to Care for a Conifer Reference Garden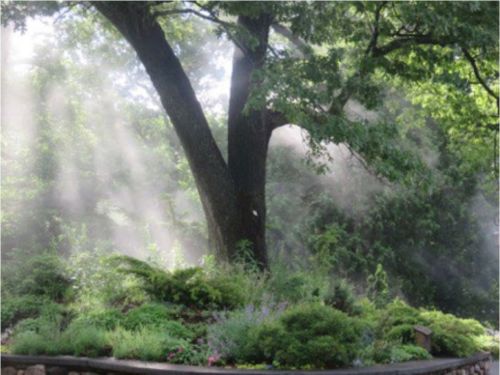 Passersby say, "It looks great!" As of 10 years I ago I thought it would always "look great," but I had a lot to learn. It seemed like an easy project – build a wall, bring in new soil, pick out some plants, plant the dwarf and miniature trees, stand back and watch them grow. Nothing to it.
Ten years later at the Wellesley College Conifer Reference Garden, I know better and I thought that some of my experiences might be helpful and possibly amusing to those in the know. The Wellesley Conifer Reference Garden contains mostly dwarf and miniature conifers and is located on a slight upward slope extending back from a 3-foot high wall, running about 60 feet in length.

Watering Solutions for a Conifer Reference Garden
Мy first problem was water. I had insisted on running two water lines to the top of the embankment above the wall, but setting out hoses and sprinklers was taking too much time for the greenhouse personnel.
So, I considered a drip hose for the area and found a wholesale dealer for RainBird equipment nearby. The dealer measured the water pressure for the extensive lines and determined that because the area was so large, it had to be divided into three sections. The downside of this arrangement is that each section took about 5 hours to water and often the personnel went home and forgot to turn the water off.
To solve this problem, I installed three elevated spray heads so the workers could see if the water was still on. Newly planted trees needed more frequent watering, a task given to the summer student interns. I oversee and maintain this garden mostly by myself with the help of intermittent volunteers, but since I am away most of the summer, I must depend on others to follow through with watering.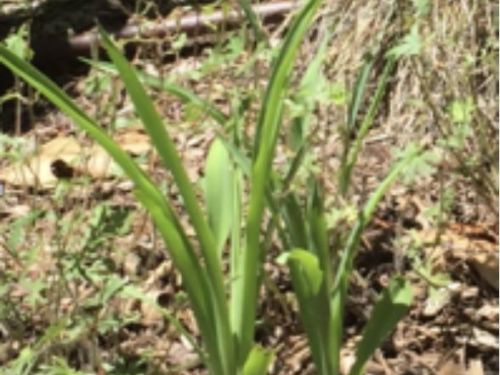 Yucca Control within a Conifer Reference Garden
One of the original plants scattered across the dry embankment before the area was rescued for a conifer garden, was a yucca. About a month after it was removed, I noticed some shoots erupting in the area. Since the area was unplanted, I dug down about 2-3 feet and uncovered a massive root about 3 inches in diameter and 18 inches long. I was impressed and felt relieved that I had solved the problem.
Ten years later I am still fighting that yucca. Sprouts began appearing again and were moving slowly along the planting bed. Stories on Google were not encouraging, but I finally followed what appeared to be a successful procedure. I let one plant grow up somewhat, clipping off all the others. I wrapped the leaves of this plant with cotton batting soaked in RoundUp, bent the leaves over into a stainless-steel pan with more Roundup and sealed it with plastic.
One month later, the plant was still alive! Not good. A year ago, I let another sprout grow that had popped up outside the garden, hoping that all the plant's energy would go there and the other small sprigs would die out. It seemed like this was working. But last summer there were sprouts again. I have a life-long job snipping yucca sprouts!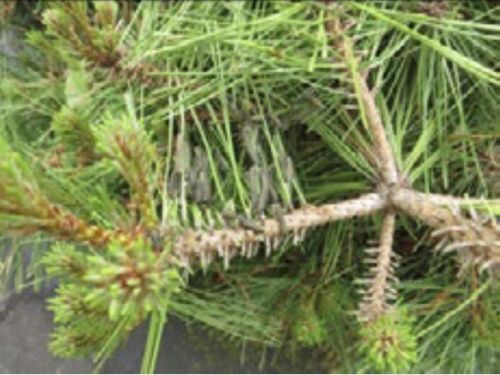 Managing Sawfly Populations in a Conifer Reference Garden
A good friend of mine in the American Conifer Society always told me not to buy two-needle pines, but never said why. Now I know why. Along the stairway through the garden there were four Pinus x densithunbergii 'Jane Kluis' which were growing quite well.
One day one of the greenhouse personnel brought me over for a look at the front plant. Needles were missing and on closer inspection, I saw that it was covered with sawfly larvae. We grabbed our gloves and pulled them off into a bucket of soapy water.
This happened each year. Last year the other three trees had to be replaced as they were in bad shape even though we had been pulling larvae off them each year. Down at the other end of the garden, I also found a dead, chewed-up Pinus banksiana, another two-needle pine. Two of my replacements along the stairway were Pinus heldreichii 'Banderica', a two-needle pine.
Google searches indicated that this pine is not a primary target, and another in the garden is good so far. The Botanic Gardens is a pesticide-free environment, so we'll see. However, our very dry summer of last year took its toll on the three replacements in spite of assiduous watering.
Adding Variety to your Conifer Reference Garden
The Reference Garden has about 76 living conifers, composed of 18 genera including Ginkgo and Ephedra and several species of Chamaecyparis, Juniperus, Picea, and Pinus. Over the nine years, I have had to replace about 37 trees, either because they had died over the winter (23%), or they were not in good enough display condition (10%). I have two holding areas for replacements, one at the College and another at home where I can watch them more closely. Several at home are recovering patients which may eventually be replanted. It pays to deal in dwarfs and miniatures!

The garden is on a major pathway for faculty, staff and students entering the Science Center, and the conifers provide good winter interest. To introduce a little color for both spring and fall, I have interplanted the area with spring bulbs, ephemerals, and perennials as well as several fall bulbs and rock garden plants in the scree.
The choice of bulbs include
Anemone blanda
Chionodoxa forbesii
Colchicum bornmuelleri
Erythronium 'Pagoda'
Eranthis hyemalis
Galanthus nivalis
Cyclamen hederifolium
Iris reticulata
Muscari armeniacum
Narcissus bulbocodium conspicuous
Trillium grandiflorum and T. nivale
These, as well as wild tulips, has outwitted the chipmunks so far, but they continuously burrow in and around the stone wall, and some bulbs do disappear.
Rock garden plants have variable survival rates so there are always replacements, and some have had to be removed completely because they turned out to be invasive. In the last couple of years, I have also started a couple of hypertufa troughs with miniature conifers and placed them in a protected area.
I am concerned that they might easily be transported away so I keep them out of the main pathway. Extra additions, of course, make more work, but they do make the garden more interesting.
Routine Tasks at a Conifer Reference Garden
Each conifer receives a professional label which has a black background with white printing. Over the winter, there are always a few labels that disconnect from their stem and must be found, cleaned, and reattached with superglue (my solution).
Even the Reference Garden sign needed such repair, probably because children love to walk along the wall and may have knocked against it. New conifers and herbaceous plants are hand-labeled; many labels are missing by spring and are also replaced.
Every other year new mulch is added to the garden, but, because there is a slight slope down to the wall, the mulch usually accumulates at the bottom by the end of the winter. This necessitates cleaning out around all the conifers in the spring so the trunks are not submerged in piles of mulch.
Replacements, watering, and mulch all require funds, and grants from the Conifer Society have supported the conifer related costs. Wellesley College Botanic Gardens provides additional funds for the non-conifer plants.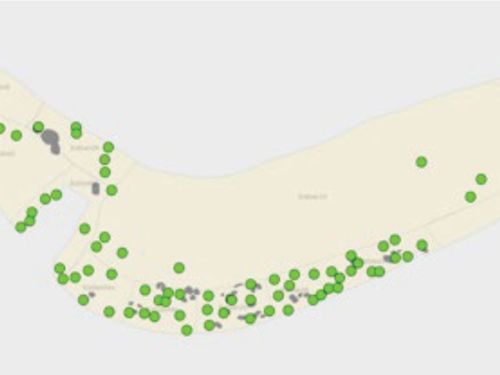 GIS Technology and Conifer Reference Gardens
Being a Type-A personality I wanted to keep track of all the plantings: their location, health, and growth rates. I started by mapping the Reference Garden with a CAD program with layers for conifers, bulbs, and herbaceous plants.
However, once the College installed a server for ArcGIS (GIS stands for geographic information systems), I mapped out the Reference Garden and added it to an archived database for all the Botanic Gardens trees. A new Collector app for ArcGIS now lets me do an annual inventory of the trees in the Reference Garden using my iPad or Phone.
These data are connected to each tree in the ArcGIS Map and include height, width, health, presence of label, comments on work to be done, and a photo. The mapping allows me to assess where my greatest losses of plants occur, which species have survival problems, as well as growth rates.
Anyone interested in pursuing the use of ArcGIS for mapping gardens should go online to American Public Gardens GIS website and Alliance for Public Gardens GIS for further information and for access to a GIS template for public gardens.

The Rewards of Watching a Conifer Garden Grow
As a retiree, I have found that working in the garden provides a great social payback. On weekends, I interact with local and international visitors, and during the week I often am called upon to give an extemporaneous presentation to student groups at all educational levels.
College staff and faculty are always passing by and remark how much they enjoy seeing what is growing and blooming. It is satisfying to realize how so many people enjoy the garden. As a long-time gardener of perennial plants, I should have realized that keeping up a Reference Garden would be work. However, I never realized that, in addition to weeding, there would be so many other annual jobs.
How am I going to convince someone to eventually replace me? Maybe they will enjoy it as much as I do.

Dr. Mary Coyne is Professor Emerita at Wellesley College. She may be contacted at [email protected].

This article was originally published in the Fall 2017 issue of Conifer Quarterly. Join the American Conifer Society to access our extensive library of conifer-related articles and connect to a nationwide group of plant lovers! Become a member for only $40 a year and get discounts with our growing list of participating nurseries in our Nursery Discount Program.

Comments