Conifer Documentation: Canadian Hemlock
Read about the people behind everything we know about hemlock, a dwarf conifer. This is part 2 of the Canadian Hemlock series. Click here to read part 1 and part 3.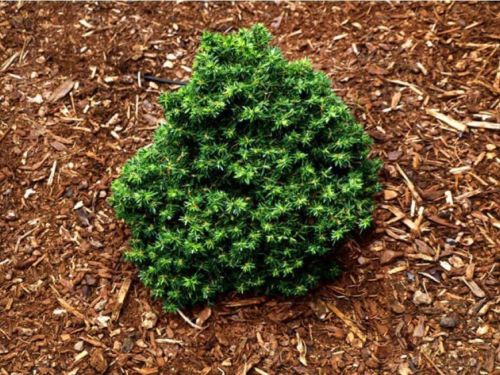 The first American Conifer Society Bulletin (Vol.1, Summer 1983, No. 1) contained an article, The Hemlock Arboretum at "Far Country" by Charles Francis Jenkins, the first of a series of articles, which were reprints from the Hemlock Arboretum Bulletin.
Jenkins was well known in the Philadelphia area as a member and leader of many charitable and educational organizations. He established the Hemlock Arboretum at his 7.5-acre residence, called Far Country, in the Germantown section of Philadelphia. It was here that he planted a collection of Canadian hemlock, as well as other hemlock species and cultivars.
There were 74 issues of the Hemlock Arboretum Bulletin, starting in 1932 and ending in 1951. This has become an important historical resource and has continued to have a strong influence on keen collectors of conifers over the years. Jenkins obtained Canadian hemlock from nurserymen, horticulturists, and collectors throughout the country and, in 1946, his card catalog contained 211 accessions.
John Swartley: Horticulturist, PhD
Jenkins was further interested in developing additional knowledge about hemlock. He advertised in the Hemlock Arboretum Bulletin #19 (1937) for someone to perform his work. John Swartley applied for the job. He was a 1930's graduate of the University of Pennsylvania, Philadelphia with a Bachelor of Science degree in mathematics education. Swartley soon found that teaching was not of interest to him and took a job at the Morris Arboretum at the University of Pennsylvania where he carried out various horticultural duties, such as seed collection and propagation.
Jenkins selected Swartley for the job and sponsored his education at Cornell University in Ithaca, New York. His Master of Science thesis was Canada Hemlock and its Variations. Soon afterwards, he enrolled at The Ohio State University, Columbus and obtained a Doctor of Philosophy degree in horticulture in 1942.
A Life's Work with Conifers
After World War II, Swartley returned to the Philadelphia area, where he lived and worked the rest of his life. He explored nurseries, arboreta, and estates, and collected many hemlock variations subsequently planted at the Hemlock Arboretum. He viewed the Hemlock Arboretum as his conifer laboratory. He was well known and respected by all the important plantsmen of the day, whether they were the heads of arboreta, outstanding nurserymen, or hobbyist-collectors.
Unfortunately, his thesis at Cornell was never published. Many horticulturists in the U.S. as well as others throughout the world were disappointed, but they were hopeful that he would write a book that summarized his findings over the years. However, he was stricken with a disabling disease which prevented him from doing this. The lack of formalization of the hemlock information Swartley provided became more critical with each passing year.

The Cultivated Hemlocks
Finally, two editors were found with the knowledge and skills to complete the book on hemlock; one was a world-renowned writer about dwarf conifers, Humphrey Welch, and the other was Dr. T. R. Dudley, a research botanist at the United States National Arboretum in Washington, DC. The book, The Cultivated Hemlocks, was finally published in 1984. This book remains the major reference source on hemlock today.

The first 62 pages contain botanical and other information on virtually all topics related to hemlock. Following this, there are monographs of cultivars with a description of each and information about discovery and origin. The cultivars are listed by groups such as pendulous, spreading, miniature, golden, and more.

A Tome on Conifers
The collection of this data spanned a period from 1938 to the 1970's. Swartley traveled extensively, collecting virtually every Canadian hemlock in existence at that time. Many similarities exist among the various cultivars. This problem was recognized, resulting in a further classification of Canadian hemlock into various groups (spreading, weeping, white tipped, golden, dwarf, extremely dwarf, and others). This is helpful also for placing various cultivars into the size categories delineated by the ACS. He also found discrepancies and duplication of names, some of which still exist today.
The latter part of the book describes the other species of hemlock, both those native to the U.S. and those native to Asia. Cultivars are also listed. The book ends with short chapters on propagation, along with problems of pests and diseases of this conifer species.

Photographs by Frank Goodhart.
This article was originally published in the Spring 2019 issue of Conifer Quarterly. Join the American Conifer Society to access our extensive library of conifer-related articles and connect to a nationwide group of plant lovers! Become a member for only $40 a year and get discounts with our growing list of participating nurseries in our Nursery Discount Program.
Comments