Dwarf Conifers: Canadian Hemlock
Read about one of the native hemlock and dwarf conifer of the US. This is part 1 of the Canadian Hemlock series. Click here to read part 2 and part 3.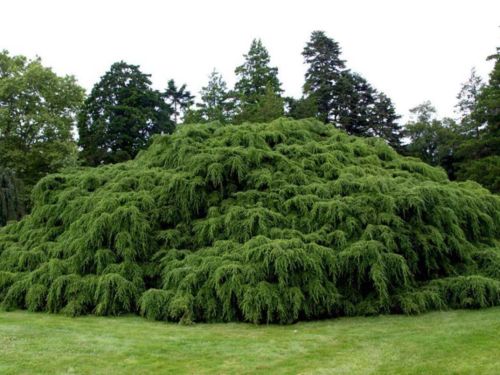 Canadian hemlock (Tsuga canadensis) were the first dwarf conifers I ever bought and collected. It was about 1980, when I first visited the (now closed) Watnong Nursery in Morris Plains, NJ. The owners were Don and Hazel Smith, who established a nursery in their backyard after retiring. They specialized in rock garden plants, dwarf conifers, and other plants, which were rare and of interest to the keen collector. The Smiths were enthusiastic, kind, and empathetic to all who visited their nursery. Indeed, among their many contributions, was the education of their clients via long and patient discussions.

Sometimes the Smiths stocked 10-15 Canadian hemlock cultivars at one time. In those days, these plants did not have much availability anywhere in the United States. On the East Coast, many were acquired from other hobbyists and collectors, including ACS charter members Bob Fincham in Pennsylvania, Eddie Rezek and Joel Spingarn in New York, and Tom Dilatush in New Jersey. The Verkade and Vermuelen nurseries, both in New Jersey, also stocked Canadian hemlock cultivars. Don Smith propagated some cultivars by rooting them in a Nearing Frame.
A Versatile Landscape Conifer
Canadian hemlock is one of the four hemlock native to the United States. Its growth range extends from Quebec and Nova Scotia into the New England states, New Jersey, Pennsylvania (where it is the state tree), westward to disjunctive populations in Ohio, Illinois, northeastern Minnesota, the Appalachian Mountains, and as far south as Georgia. As a landscape plant, Canadian hemlock grows well in both sun and shade. Its natural habitat begins at 1,000-feet elevation and extends up to several thousand feet above sea level in mountainous areas. One may often observe them in cool, shady ravines.
The other native hemlock are: Tsuga caroliniana (Carolina hemlock), T. heterophylla (western hemlock), and T. mertensiana (mountain hemlock). Carolina hemlock grows in the Blue Ridge Mountains from Virginia to Georgia. The mountain hemlock grows at higher elevations on the West Coast from California to Alaska. Its distribution is similar to that of the western hemlock.
There are four species of Asian hemlock: Tsuga chinensis (Chinese hemlock), T. diversifolia (northern Japanese hemlock), T. dumosa (Himalayan hemlock), and T. sieboldii (southern Japanese hemlock). Cultivars of these species are uncommon except for T. diversifolia (northern Japanese hemlock), of which there are a few. T. diversifolia is native to the Japanese islands of Honshū, Kyūshū, and Shikoku. In Europe and North America, T. diversifolia is sometimes employed as a tree for the garden. It has been in cultivation since 1861.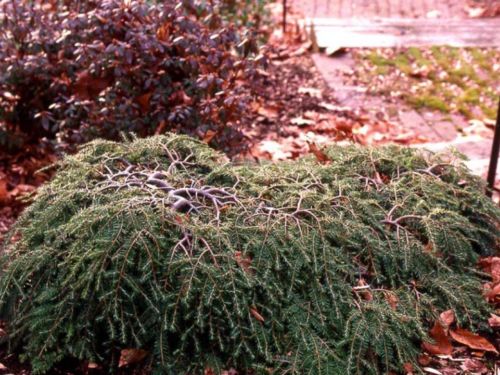 The Conifer with a Prized Exterior
The wood of the Canadian hemlock has not been useful for general construction purposes because of its softness and lack of durability. It has, however, been used as a source of pulp in the paper industry and to make crates. In the past, it was mercilessly harvested only for its bark, which has a very high tannin content of about 8%–10%. Large forests were decimated for the sole purpose of harvesting only the bark. Extracted, hemlock vegetable tannins were used to cure and color leather. The stripped logs were left behind to rot.
Virgin forests of Canadian hemlock are non-existent today. The trees were an important part of forest ecology, making up as much as 33% of the forests in some areas of the Northeast. However, there are some very large trees remaining in several states. The current data may be found on the Eastern Native Tree Society (ENTS) website. Recently, a tree in the Great Smoky National Park (NC and TN) was 173-feet tall (52.8 meters), although this tree is now dead from hemlock woolly adelgid. Diameters of existing, isolated hemlock range from 2 feet 6 inches to 5 feet 11 inches (0.75–1.8 meters) and are about 150-feet tall (45.5 meters).
Conifer Collector's Favorite
T. canadenisis is perhaps the most graceful of our native eastern North America conifers with its gentle, weeping branches and informal, conical shape. It has been used effectively as a hedging tree, since it can be pruned regularly to increase branch density, while controlling its overall height. As a specimen tree, it can grow to a height of 70 feet (20 m) and a width of 25 to 35 feet (7.5 - 10 m). It does not tolerate heat and does not grow well in urban areas. The Canadian hemlock has special significance to those of us in the ACS and to other gardeners. It was formerly a major source of conifer cultivars in the United States, and hundreds have been found and named. In the early 20th Century, it was the most common dwarf conifer in the garden of the keen collector.
The first conifer cultivar of our native eastern hemlock to find notoriety is Tsuga canadensis 'Sargentii' (Sargent's weeping hemlock). It can now be seen at several arboreta in the Northeast, including: The Arnold Arboretum, Boston, MA, New York Botanical Garden, NY, Planting Fields Arboretum, Nassau County, NY, Longwood Gardens, Kennett Square, PA, and Bayard Cutting Arboretum State Park, Great River, NY. These specimens are over 100 years old. They are magnificent and well maintained. Other cultivars, whether of miniature, dwarf, or intermediate growth rates, offer textures and colors to the garden, which are quite different from those of pines, spruces, and firs.
Photographs by Frank Goodhart.
This article was originally published in the Spring 2019 issue of Conifer Quarterly. Join the American Conifer Society to access our extensive library of conifer-related articles and connect to a nationwide group of plant lovers! Become a member for only $40 a year and get discounts with our growing list of participating nurseries in our Nursery Discount Program.
Comments