Adrian Bloom's 'Gardening with Conifers, 2nd Edition'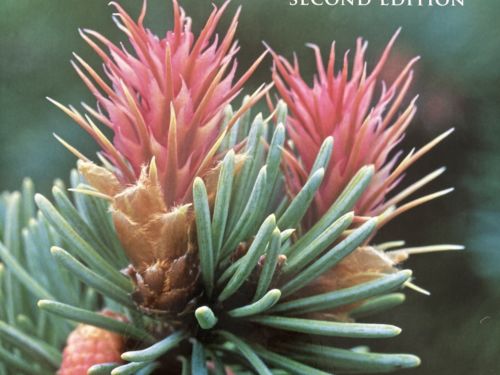 It is only fitting that I write a review of the new, second, edition of Adrian Bloom's book, Gardening with Conifers, (Firefly Publishing, 2017) since it was the first edition, published in 2002, that introduced me to conifers (How I fell in Love with Conifers) and began for me what varies from a hobby to an obsession, depending on one's viewpoint! While his prose is compelling, it was the photographs, by Adrian and his son Richard, that captivated me: the depictions of the incredible variety of colors, shapes, sizes and textures in the conifer collection that populates his 50 year old, 17-acre Foggy Bottom Garden in Bressingham, Norfolk, England. The second edition has even more photos, an updated directory of desirable garden conifers, and, my favorite part, a section on the Foggy Bottom garden at 50, complete with 'then' and 'now' photographs that clearly depict the successes (and sometimes mistakes!) of beginning with small specimens and seeing them grow to maturity.
For the gardener and plant-lover, the book provides inspiration for using conifers with other plants, sometimes woody specimens, sometimes perennials, and even bulbs and ornamental grasses. Adrian discusses cultural requirements, placement, growth rates, pruning, etc—all that one needs to understand how to be successful at adding conifers to the garden population. Particularly useful for those with small gardens is the section on conifers in containers. For the serious conifer-collector, the Directory of Some of the Best Conifers is revised and expanded, from 84 pages to 103, and now includes cultivars and species that had not been created or identified when he published the first edition.
Watch Adrian discuss conifer pruning
The new edition also includes a chapter on the development and planting of a garden in Friesland in northern Germany, called Mauergarten, which translates to 'Walled Garden'. This is both a charming story of friendship and collaboration and an informative and interesting history of the building of a garden, from conception to fruition. While this project is beyond the scope (and possibly the imagination!) of many of us, it is still instructive and we can relate many of Adrian's challenges to those that we face in our own garden design.
While the new edition is over 15% longer than the first one, it contains more than 15% more information because, without seeming to crowd either the text or the photos, there is more of both crammed onto each page. The first edition's directory claims to include 'over 600 conifers' and I did not stop to count the list in the 2nd edition, but it is clearly much longer!
Finally, as an ACS member, it is pleasing to know that on some level, Adrian and I are equals. We are both individual members of the Society. That is the ONLY level on which we are equals, but it's fun to dream! It's also fun to see that in the credits, first shout-out goes to ACS member Dennis Groh, who helped with the project all along the way. I would like to give a shout-out to both Adrian and Richard, for updating what was already a classic and making it even more informative, lush and inspiring. I'm inspired now, so I am going to close, and go out into the garden! Buy this wonderful book and get inspired, too.
Comments