12 Amazing Conifer Cones
Photographs by Janice LeCocq Photography In April, winter-weary eyes look with relief to spring flowers bursting forth across the landscape. But don't think that flowers are the only eye-candy in the garden at this time of year; take a look at the vernal show that conifers (those allegedly boring, unchanging hulks of northern forests) put on for us! The Poulsen Arnold fir above is one of those decorating my garden right now with its gorgeous cones.
Conifers have two kinds of cones: female, or seed, cones, and male, or pollen, cones. The seed cones are the ones that we all know as 'pine cones', no matter if they come from pines, firs or spruces (all of which belong to the pine family, the largest conifer family, one reason that 'pine' is, to many of us, synonymous with conifer). The seed cones are often the showiest, but some pollen cones can give them a run for their money.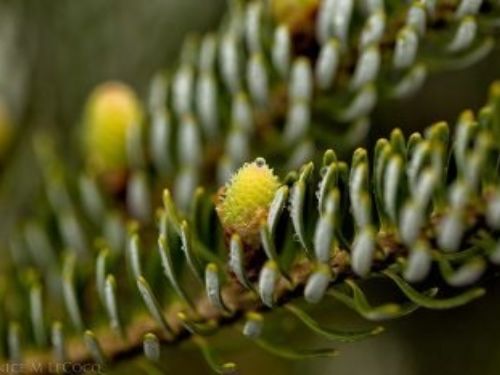 Fir cones
Firs, which are conifers of the genus
Abies
, are known for their showy seed cones, which they hold upright, proudly pointing them skyward as if to say 'look at me, look at me!' An easy way to remember this (and aid in conifer ID should you wish to develop the skill) is that ABIES cones are ABOVE the branch.
Here's what those 'Horstmanns' Korean fir seed cones mature into: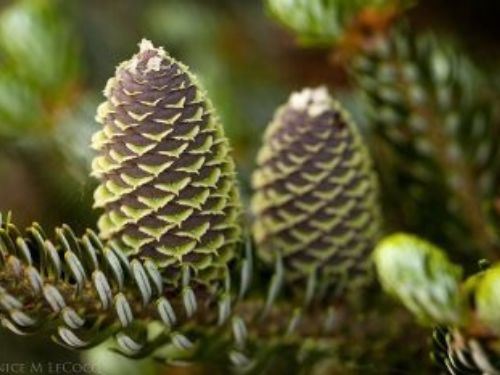 And those cones nestle on top of needles that have a silvery underside that glistens in the sunlight.
Firs, however, do not have a monopoly on cute cones. Many spruces can compete with confidence! Picea orientalis, or Oriental spruce, has darling cones that dangle from the branches. (PICEA cones are PENDULOUS.) Here's a lovely show from an early one called 'Fasty Gold'.
Spruce cones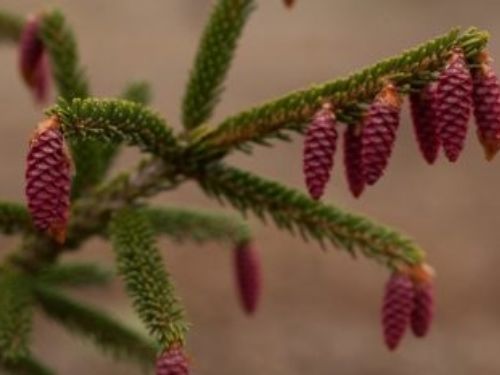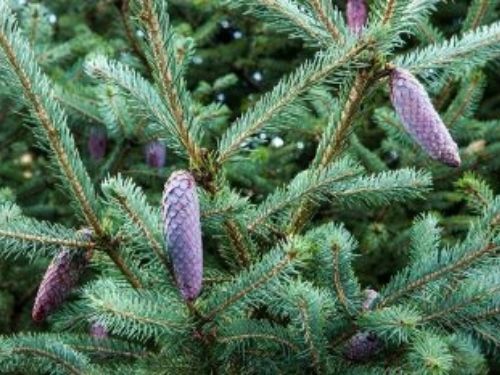 There are even female spruce cones that look like little rosebuds, which grace the landscape well before the actual roses bloom. The dwarf cultivar of Norway spruce, Picea abies 'Pusch', is one of the rosiest. The photo below shows this year's cones (the pink ones) nestled amongst last year's (the brown ones). It is a diminutive selection, great for a container planting.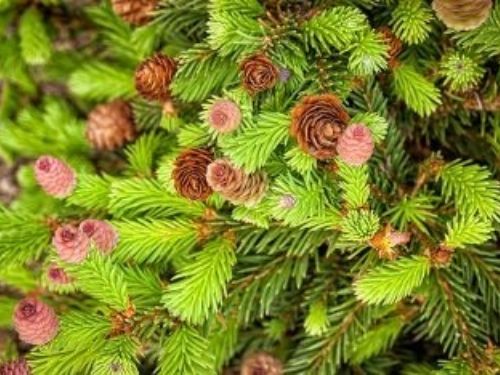 'Pusch' was found as a witch's broom on another Norway spruce, Picea abies 'Acrocona'. 'Acro' means 'at the end' in Latin, and describes the habit this conifer has of producing most of its cones at the ends of its branches. If 'Pusch' looks like it is full of little rose-buds, 'Acrocona' is more like a single large long-stemmed American Beauty.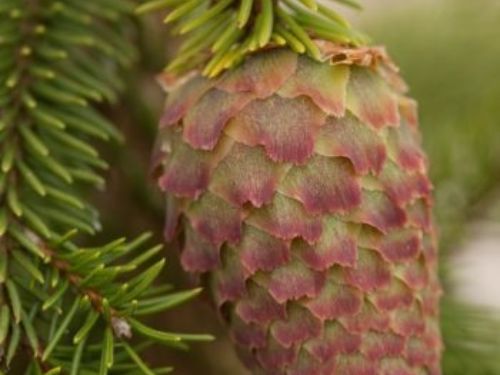 Pine cones
Since we're talking about the pine family, what about actual pines, which are conifers of the genus
Pinus
? They have seed and pollen cones, too. Some are very structural, such as those on most
mugo pines
; they look as if they have been carved by artisans out of tropical wood: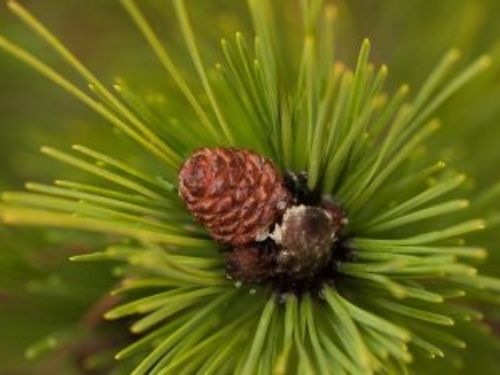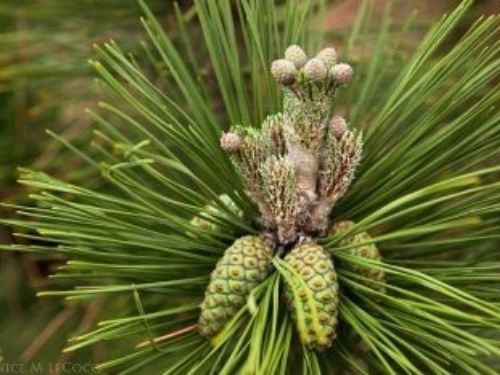 Other pines, like the Eastern white pine, Pinus strobus, have long, slender cones, although when young don't look much different from those of their mugo relatives. In the photo below you can see this year's new, small cones among last year's crop. The sap (a way that the pine protects the protein-rich seeds within from predatory birds and mammals) makes the older cones appear as if they were dipped in sugar.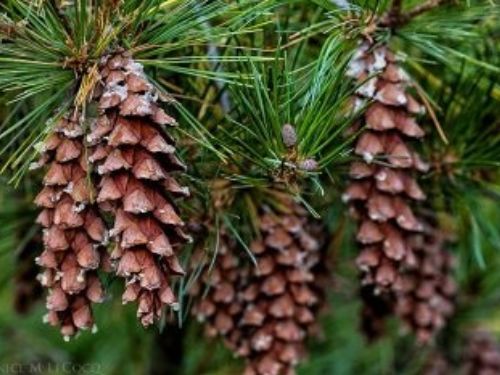 Then there are cones that really don't resemble anyone's idea of pine cones, such as the soft blue horned seed cones on Platycladus orientalis, commonly called Chinese arborvitae. They decorate the plant like so many pearls scattered across a tweedy green dress.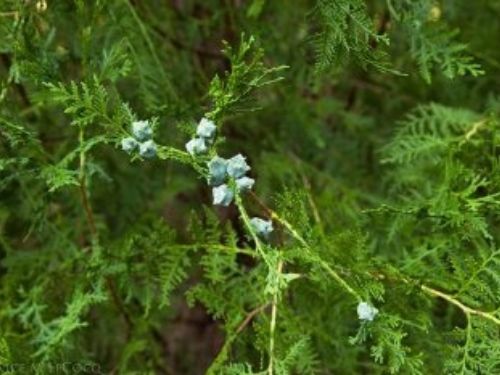 Have you seen enough seed cones to be convinced that conifers can put on quite a spring show? So what about those pollen cones that we mentioned at the beginning? Pollen cones, since they do not have to provide a home for the developing seed, are by their nature smaller than seed cones. That doesn't mean that they can't attract attention, though! Check out the pollen cones on Japanese white pine, in this case, a cultivar called 'Cleary':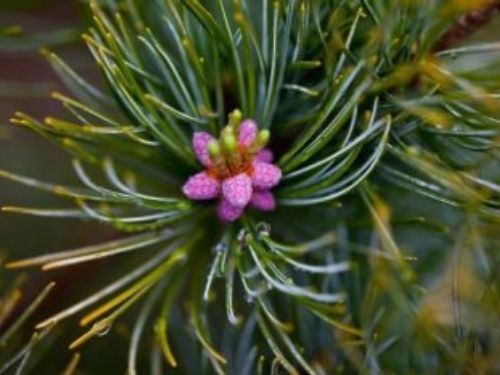 And, while smaller than seed cones, in order to ensure genetic diversity, they are also more plentiful. This was quite obvious last week at San Francisco Botanical Garden, another ACS Reference Garden, where I caught the Abies numidica doing a little conifer-style chest-thumping: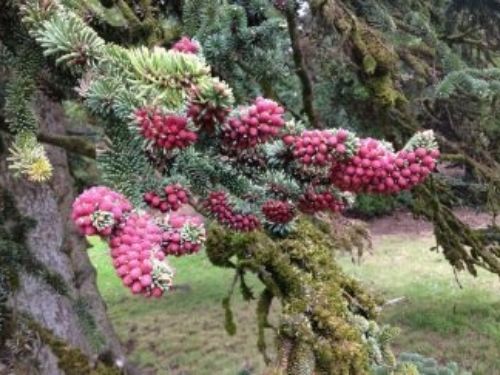 So when you look to nature to chase away your winter blahs, don't forget to look at the conifers as well as the flowers!
Find out more about these and other conifers at the ConiferBase, the ACS's proprietary database of thousands of conifer species and cultivars.
Not a member? Join today!
Liven up your garden and your life. Connect with 'coneheads' of all backgrounds and knowledge levels. Learn about conifers and other woody plants. Gain access to private gardens for enjoyment and inspiration. Shop wholesale and get discounts at retail nurseries. Read the ConiferQuarterly. Help conifer conservation efforts. What are you waiting for?
[button name="Click here to Become a Member" url="https://secure.conifersociety.org/np/clients/acs/membershipJoin.jsp" align="alignleft"]
Comments

Maggie we can't ID without a photo. You could send a photo to the website editor and it could be posted and maybe someone could ID it. The website editor's address is [email protected]