10 Types of Cypress Trees that Everyone Should Know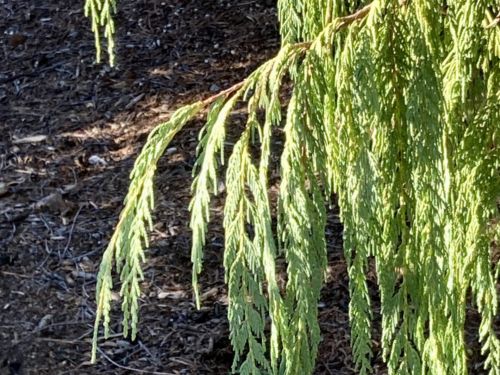 Cypress: What's in a Name?
Unfortunately, it is common for people to indiscriminately refer to many kinds of conifers as cypress, even if they are not of the genus Cupressus, and are thus not really cypresses. Since we are supposed to know what we are talking about when we talk about conifers, we will restrict this discussion to those trees which are members of the genus Cupressus, and ignore the others, such as Taxodium (called swamp or bald cypress) or Glyptostrobus (Chinese swamp cypress) and the like. There are enough true cypresses to excite and entice any tree lover.
So now we're on firm footing, right? We're going to look at a short list of conifers that all agree are classified as cypress. Not so fast! This genus, more than any other within the world of conifers, has had its members named, re-named, re-named again, and then, in some cases, sent back taxonomically to where they began. At the time of this writing, there is still disagreement about how some members of Cupressaceae, the family to which all of the genera belong, should be classified. The ACS, perhaps believing that it is preferable not to complicate things unnecessarily, does not recognize the genus Xanthocyparis, the genus Hesperocyparis, or the genus Callitropsis, holding them both to be Cupressus. Should you see plants labeled with those names, worry not. The trees will continue to behave as they do, regardless of what we call them.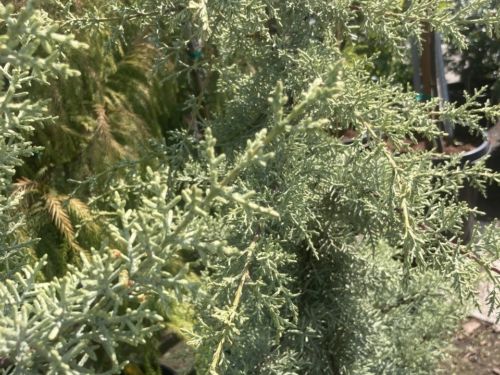 Cypress can be very long-lived trees, with some reported to be over 1,000 years old. There are cypress native to the Mediterranean region, Asia and North America, and their forms and color vary from narrow upright to spreading to weeping. Cypress are not as hardy as many other conifers native to the Northern hemisphere, with the hardiest, Nootka cypress, able to survive in USDA Zone 5, with average minimum winter temperatures of -10 to -20 degrees F (-23 to -29ºC). For those of you who will indulge in zone-pushing no matter what we tell you, there are reports of some other Cupressus, such as C. sempervirens (Italian cypress) and Cupressus arizonica var. glabra (smooth Arizona cypress) weathering the winters in Zone 6, but most of the trees discussed here are hardy only to Zone 7.
Cypress foliage can resemble that of junipers, which is understandable as they are both members of the cypress family, Cupressaceae. Their cones, too are similar. Some of the most difficult field IDs can be trying to determine whether the specimen at hand is a cypress or a juniper. While both cypress and juniper are associated with dry, hot climates - think the rows of Italian cypress in southern Italy or the Arizona cypress in the American Southwest - there are cypress that are far more verdant. So which cypress should you consider for planting in your garden?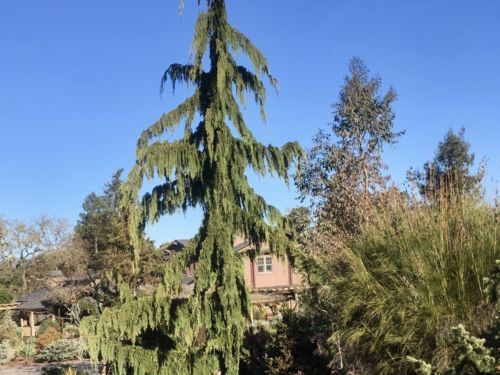 Nootka cypress, also known as yellow cypress and Alaskan cypress, is native to the west coast of North America, from Alaska to Northern California. As one of its common names implies, it is a denizen of cold places and is fully hardy to USDA Zone 5. However, it also grows quite happily in Zone 9, and Tom Cox and John Ruter, in their definitive book on conifers suitable for the American Southeast, pronounce Nootka cypress to be quite adaptable to that climate. While there are any number of Nootka cultivars, 'Green Arrow' is a favorite for garden culture due to its narrow form and rich, deep green color. Its relatively small footprint for a tall tree - it is not uncommon to find them over 20 feet (6 m) tall - makes it one that even a small garden can accommodate. Those 20-footers generally are only about 2 to 3 feet (60 - 90 cm) wide.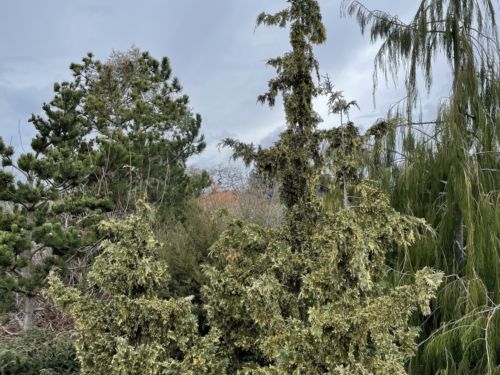 If rather than a rich green, you are seeking a little more pizzazz, try Cupressus nootkatensis 'Sparkling Arrow', which is a variegated form of 'Green Arrow'. As with almost all variegated plants, 'Sparkling Arrow' doesn't grow quite as fast as its all-green (and more chlorophyll-rich) parent. This striking cultivar originated as a sport on 'Green Arrow' and has a similar form. Due to the narrow form, in larger gardens it is possible to plant 'Sparkling Arrow' in groups of three, as in the photo above. There are other variegated Nootka, but they are not very readily available in the trade.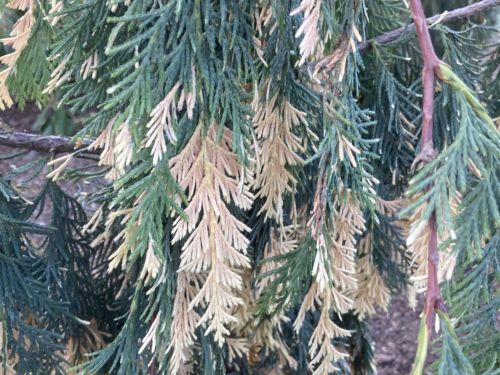 'Gabriel's Gift', a Buchholz & Buchholz selection, has variegation that is more dramatic, not as regular, and whiter than 'Sparkling Arrow'. If you are looking for a show-stopper and you happen upon it, snap it up! The large white sections will burn in full sun, especially when the tree is newly planted, so locate it where the young plant gets some afternoon protection.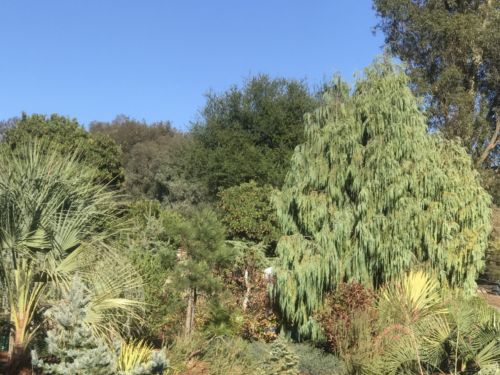 There is no more lovely, graceful cypress than Cupressus cashmeriana, which, despite its name, is native to Bhutan, not Kashmir. But for two considerations, it is worthy of inclusion in almost any landscape. The two considerations, however, are deal-breakers: it gets enormous, and it is only hardy to Zone 9. However, if you have the room and you are in a mild climate, nothing should hold you back. Its weeping branches undulate in the breeze and its blue-green color is compatible with virtually any other. Native to a monsoonal climate, it nonetheless does very well with moderate irrigation in a typical garden. In the garden pictured above, it is the anchor in a bed containing palms, acacias, madrone and yuccas. It is possible that its roots have commandeered all of the water afforded to the bed, leaving just enough for its water-thrifty companions.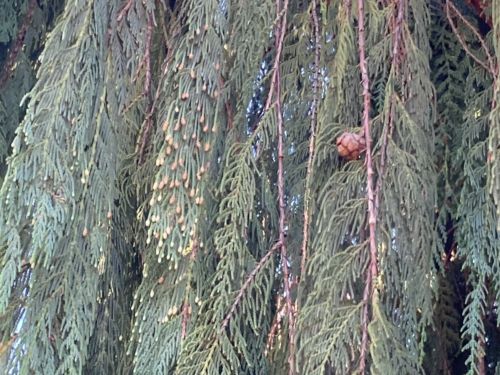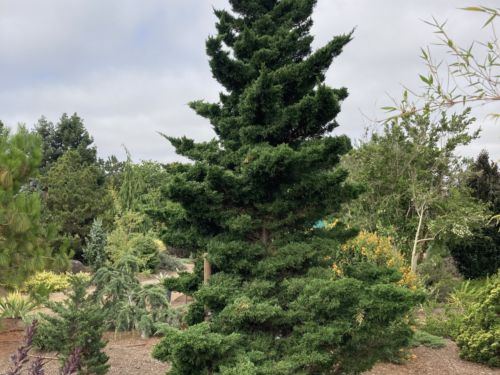 This narrow, upright deep, deep, rich green selection of Monterey cypress is a garden marvel. While it takes up far less real estate than Kashmir cypress, it, too, is only hardy to Zone 9. However, if you can grow it, its color and its slender silhouette make it one of the best 'punctuation marks' in almost any style of garden. Less dramatic than the Nootka cypress, it is easier to work with as it doesn't demand the same level of attention, and tends to show its near neighbors to their best advantage. When we look for interesting plants to add to our gardens, we have a tendency to focus on unusual colors, and gravitate to blues, yellows, golds and variegated foliage. It's a mistake to not seek out intense greens as well. This is one of the best.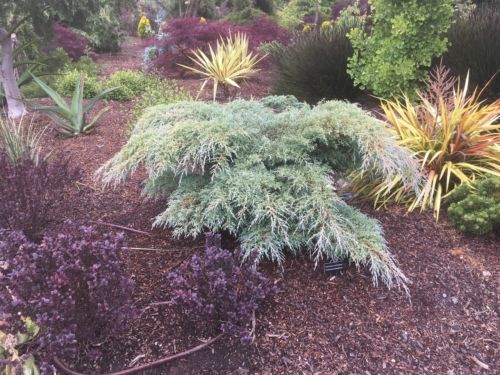 Greenstead Magnificent Monterey cypress is truly magnificent, mostly because its foliage is a soft, seafoam green, a color that is not found on any other conifer. There are junipers that are close, but not quite... The pastel green is loveliest in spring, when the new twigs emerge with a pinkish hue. It is an effect that photos cannot hope to depict; you simply have to see for yourself! This cultivar is, unfortunately, only hardy to Zone 8 and does not much like humid summers. While we try not to suggest cultivars that are hard to grow and even harder to come by, we include this one because of its unique coloration and because it is one of the few cypress (maybe the only, other than its parent), that is horizontal and spreading in habit.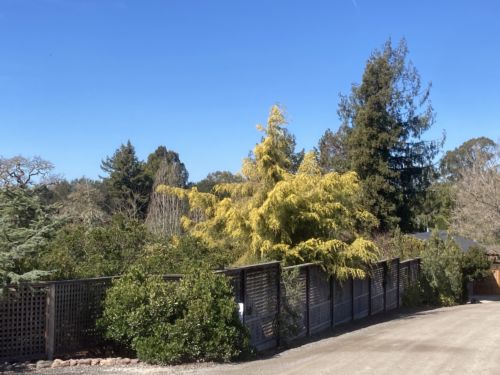 Like Cupressus cashmeriana, 'Coneybearii Aurea' needs a lot of room. Its height is impressive (the ACS classes it as 'large', meaning that it grows over 12 inches (30 cm) per year) and its breadth equally so. However, if you are in Zones 8 to 10 and have the room, it's one that should be seriously considered. This cultivar is a trifecta: it 'improves' on the species in three ways. It is golden in hue, weeping in habit and has threadleaf foliage, making for a stunningly eye-catching, graceful tree. It is particularly noteworthy in winter, when it lights up gray days like a beacon.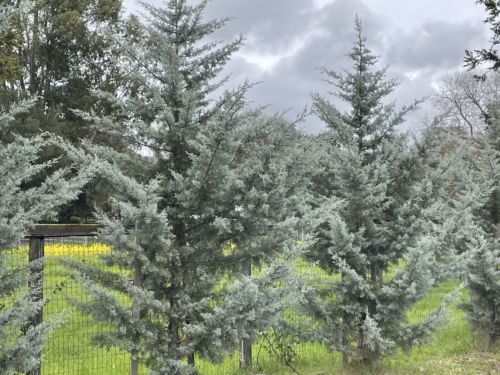 For those of you getting frustrated because many of the selections thus far have not been hardy in much of the US, you will be pleased to learn that Arizona cypress is hardy to zone 6. Not only is it cold-hardier than many Cupressus, but Cox and Ruter, in their definitive Landscaping with Conifers and Ginkgo for the Southeast, pronounce success with Arizona cypress in that region; it understandably flourishes in areas with drier summers and cooler nights. While there are a number of blue cultivars of this species, we've chosen 'Blue Ice' due to its pleasing, slightly open form and light, silvery, powder-blue needles. Other attractive cultivars with slightly different growth habits and shades of blue are 'Blue Pyramid', 'Carolina Sapphire' and 'Chapparal'.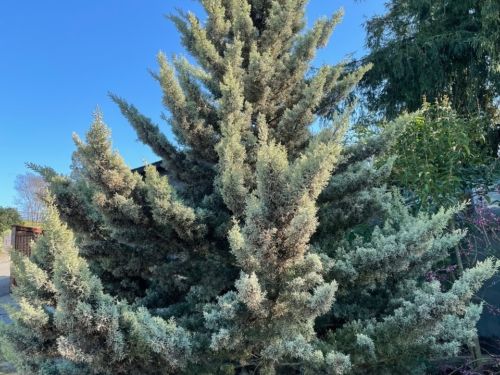 While it shares its growth habit with 'Blue Ice', 'Sulfurea' has its own, distinctive color. Its needles are tipped with a sulfury yellow new growth, which gives the entire plant a whitish/pale yellow cast. A standout in the garden, especially when paired with deep greens or maroon foliage.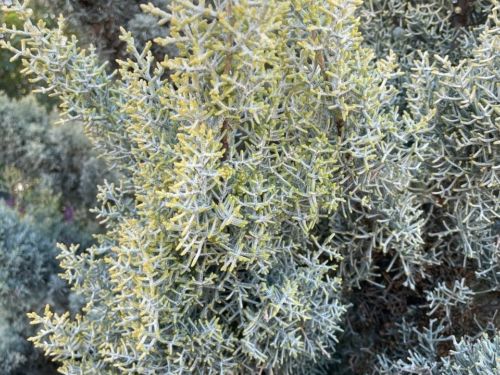 9. Cupressus × leylandii 'Gold Rider'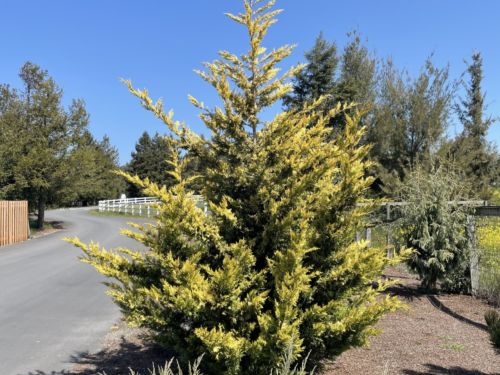 Cupressus × leylandii, or Leyland cypress, now known to be a naturally-occurring cross between Cupressus nootkatensis and Cupressus macrocarpa, has a somewhat checkered reputation, which you can read about at the link above or Google for more horror stories. However, when planted appropriately (it is hardy to Zone 4) and not shoe-horned in where there is not room for it to grow, it can serve as a good garden citizen. This is particularly true of the cultivar 'Gold Rider', which has a uniform golden color, especially vibrant when new growth pushes in spring. Cox and Ruter recommend it for zones up to 8a in the Southeast, and it performs well in most other parts of the US. Used as a focal point, this selection will have none of the problems associated with the massive hedges of the original hybrid, particularly in the United Kingdom.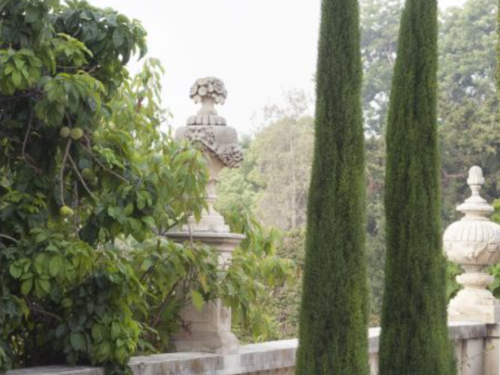 The ACS rates this selection as hardy to Zone 8, but Cox and Ruter finds that it survives nicely in Zone 7a. It is a Monrovia nursery introduction, registered as Tiny Tower, with the botanical name of 'Monshel'. It is a wonderful choice for those with smaller gardens as it grows much, much more slowly than the species and after 10 years is generally only about 8 feet (1.6 m) tall and only 1 foot (30 cm) wide. This cultivar is well-suited to containers as well as in-ground planting.
Want to know more about cypress and how to grow them? Join the ACS and ask the experts, attend meetings and participate in our on-line forums.
Comments
I look forward to learning more about conifers. I have what I believe is a Kashmir cypress. It is quite a beautiful specimen that I'm told number very few in Cincinnati.

Hi George ... we appreciate your enthusiasm and thirst for conifer knowledge. It's highly unlikely that you're working with Cupressus cashmeriana in Cincinnati ... it's barely hardy in USDA Zone 9 ... as cool a plant as it is, I can't grow it in my USDA Zone 8a landscape in Washington state ... fails in Oregon at 8b as well.

Climate-wise, San Francisco's Bay Area in California seems to be the sweet spot for this species.
Hi. I'm trying to find out how tall and wide the new Cupressus 'Snowcrest' can potentially become. Some websites say 1.5m others 5m ?

hello Rhett ... since that plant has only been around since 2019, nobody can give a 100% accurate answer / everything will be an educated guess. A press release from The Netherlands from 2019 says that it's fast growing, up to two feet per year. Sounds like it grows really fast and large — similar to the wild species.
Was I surprised when I saw "Tiny Tower" on this list. Just this summer I transferred my 20-year Tiny Tower from a clay pot and for the first time planted it in-ground. TT has been with me on my many journeys and it so nice to finally have it in-ground (though it was very attractive on the front porch in it's large clay pot). It is now 6' tall and pleasingly slim and enjoying the sun here in Onbtario, California.
Hi, I have a number of cypress trees planted in n row, in order to form a hedge. My nabour noticed that one of them is dying because of a sickness, and she mentioned that it will spread to the rest of them. I need to know what to do in this case. I will hate to loose them all. Olease help!!
Regards
Oscar

Hi Oscar. Tough to diagnose without photos and more information. Could be a fungus, bacterium or an insect. be something abiotic (in other words, not a disease or insect, rather poor planting or a physical injury from a lawnmower or the like). You could try sending a photo with more information (when planted, what size, how cared for since planting) to the website editor at [email protected] Alternatively, if you are in the US, go to your local Cooperative Extension service with samples and information. Good luck.
We have a large cypress (I think) hedge that is getting out of hand covering the sidewalk along the street and getting too tall to use a ladder to get to the top of it.

The problem with cutting it back is that the foliage doesn't go that deep into the plant so you get dead spots if you cut too deeply. Also the plants were "topped" before we bought the house so that at about 10', there's a significant branching out of the main trunk that makes keeping them trimmed to a certain height much more difficult.

I'd like to trim it shorter so there's a lot less ladder work to get the top of the hedge flat. Also, I'd like to trim it back so the sidewalk is passable w/out exposing bare branches.

What should we do? I can definitely send pics if that will help.

N. coast CA
I recently purchased a small plant, at WALMART, labeled cypress w/no information about it or how to care for it. The plant was mixed in with Poinsettias and looked very feathery. I would like to transplant it to a larger pot and keep it as a house plant or train it to be a bonsai.
Have you any idea what is the best care for this cypress or have you even heard of such a plant as this? It is a very soft and fine needle. It is slightly aromatic when I touch the needles, kind of like cedar/evergreen. Deb Farrell, Wisconsin