Amentotaxus formosana / Taiwan catkin-yew
Amentotaxus formosana, as described in 1952 by Li Hui-Lin, in Journal of the Arnold Arboretum, 33rd edition, is commonly known as the Taiwan Catkin yew, or as 台灣穗花杉 (tai wan sui hua shan) in the Chinese language. This species name names Formosa, the former name for Taiwan. This conifer was formerly classified as a variant: Amentotaxus argotaenia var formosana.
Ethnobotany. The wood is used for making furniture and handicrafts, etc., and the species is sometimes cultivated as an ornamental tree.
The International Union for Conservation of Nature (IUCN) considers A. formosana as critically endangered because of its populations are small and threatened by habitat loss as well as populations characterized by very low levels of genetic diversity.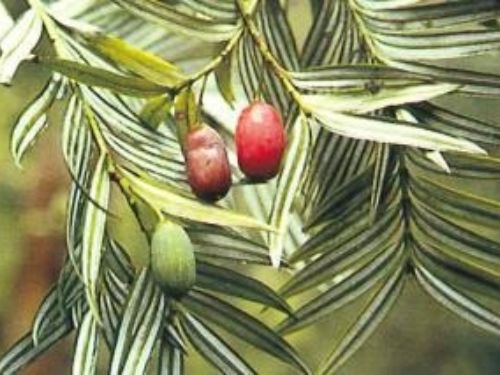 Description. Taiwan Catkin yew is a small, evergreen coniferous species of tree in the Taxaceae family which will grow to mature heights of 33 feet (10 m) tall, with a slender trunk growing to 12 inches (30 cm) in diameter, measured at breast height.
Bark is smooth, brown, and exfoliates in thin flakes.
Twigs are opposite, with grooves running from one leaf to the next, green in first year, later yellowing to brown.
Leaves are coriaceous, lanceolate, falcate, with revolute margins; individually, the are dark green in color with a midrib above, and two broad whitish stomatal bands flanking a midrib below. They measure 2 to 3.5 inches (5 - 8.5 cm) long by ca. 0.3 inch (7 - 8 mm broad) with an acuminate apex.
Pollen cones are axillary or subterminal in clusters of 2 to 5 racemes, each measuring 0.6 to 1.4 inches (1.5 - 3.5 cm) long with 7 to 10 crowded pairs of 0.1 inch (2.5 mm) long cones.
Seed-bearing structures are axillary near shoot ends, with 0.6 to 0.8 inch (1.5 - 2 cm) long peduncles, an ellipsoid shape, and 8 to 10 decussate, keeled bracts enclosing a 0.8 to 1 inch (20 - 25 mm) by 0.35 to 0.4 inch (9 - 11 mm) aril, that is colored green when young, maturing reddish purple with a mucronate apex, containing a single seed, measuring 0.6 by 0.3 inch (15 × 7 mm).
Distribution
. This species is found only in southeastern Taiwan growing at elevations of 3,800 to 4,200 feet (1,200 - 1,300 m) above sea level where it only occurs in four localities of cloud forest in the Hengchun Peninsula. Its native climate experiences annual rainfall of 100 to 120 inches (2,500 - 3,000 mm). These wet summers and damp winters produce a perennially warm and humid climate.
Hardy to USDA Zone 9 — cold hardiness limit between 20° and 30°F (-6.6° and -1.1°C).