Abies veitchii / Veitch's fir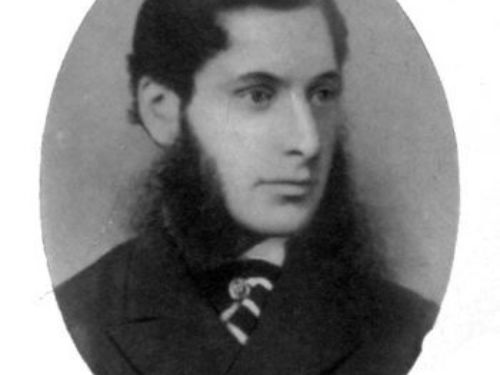 Abies veitchii, as described in 1861 by John Lindley (1799–1865), in The Gardeners' Chronicle & Agricultural Gazette, 1861 edition, is commonly known as Veitch's silver fir, Shikoku fir, or as シラビソ or シラベ (shirabiso or shirabe) in the Japanese language. Lindley named it after John Gould Veitch (1839–1870), whose great merit as a very energetic explorer of the vegetation of Japan it gracefully records.
Ethnobotany. The wood is sturdy and elastic, and is used in construction, boxes, utensils, and spindles. Veitch's fir is a popular ornamental tree and is occasionally grown for Christmas trees.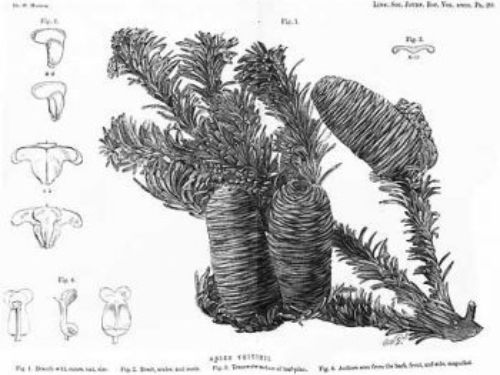 Description. Veitch's fir is a evergreen, coniferous species of tree that grows at a fast rate to mature heights of 80 to 100 feet (25 – 30 m); with a narrowly conic crown and horizontal branching.
Bark is smooth, light grey in color, and has resin blisters characteristic of many firs.
Shoots are pubescent, with short brown hairs.
Leaves are needle-like and flattened, measuring 0.4 to 1.2 inches (1 – 3 cm) long and 0.08 inch (2 mm) broad. They are glossy dark green above with two conspicuous bluish white stomatal bands underneath, and notched at the tips. The foliage is dense and points forward along the shoot, with the inner leaves being shorter and more erect than the lower leaves.
Seed cones are purple-brown in color, with a cylindrical shape, measuring 1.6 to 2.8 inches (4 – 7 cm) long, tapering slightly. The cones are upright and have slightly exserted and reflexed yellow-green bracts.
Distribution
. This species is native to Japan — Honshu island, growing at elevations of 5,000 to 6,000 feet (1,600 - 1,900 m) above sea level.
Hardy to USDA Zone 3 — cold hardiness limit between -40° and -30°F (-39.9° and -34.4°C).
Attribution from: Mirko Vidakovic; Conifers: morphology and variation, translated from Croatian by Maja Soljan; ©1991, Graficki Zavod Hrvatske, Croatia.