Abies squamata / flaky fir
Abies squamata, as described in 1906 by Maxwell Tylden Masters (1833–1907), in The Gardeners' Chronicle: a weekly illustrated journal of horticulture and allied subjects, is commonly known as flaky fir; as well as 鳞皮冷杉 (lin pi leng shan) in the Chinese language. Local Tibetans know this fir as "bollo", but that term is a general term for firs and spruces. The species name, Latin for scaly, refers to this conifer's papery, peeling bark.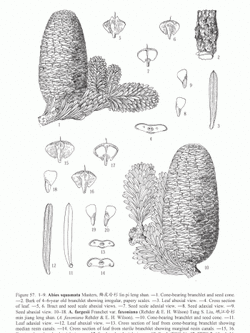 Description. Flaky fir is an evergreen coniferous species of tree which grows to mature heights of 120 feet (40 m) tall; with trunk up to 40 inches (1 m) in diameter, measured at breast height.
Bark is reddish-brown in color, exfoliating in thin papery layer like that of a birch, even on trees of only 6 year of age.
Shoots grow with dense brown hairs.
Foliar buds are globose, red-brown in color and very resinous.
Leaves (needles) are densely arranged, erect, not pectinate, linear, measuring 0.6 to 1 inch (1.5 - 2.5 cm) long, colored bluish green, with 2 white stomatal bands on the lower surfaces.
Seed cones have an oblong-ovate shape, measuring 2 to 2.4 inches (5 - 6 cm) long, violet when young; the tips of bract scales protrude past the seed scales, which are 0.6 inch (1.5 cm) wide.
Distribution. This species is native to China — western Sichuan, growing the alpine zone at elevations of 11,200 to 12,800 feet (3,500 - 4,000 m) above sea level; also in southern Qinghai province, as well as eastern Tibet.
Hardy to USDA Zone 6 — cold hardiness limit between -10° and 0°F (-23.2° and -17.8°C).
Attribution from: Vidakovic, Mirko; Conifers: morphology and variation. Translated from Croatian by Maja Soljan. ©1991 Croatia: Graficki Zavod Hrvatske.