Abies pinsapo / Spanish fir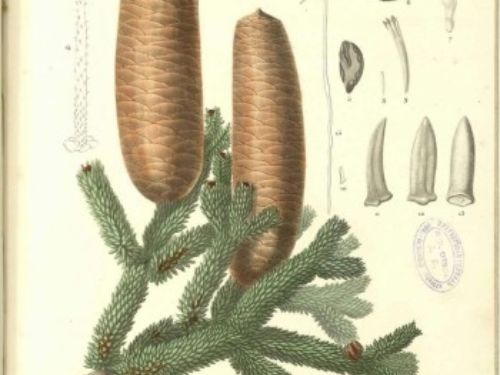 Abies pinsapo, as described in 1838 by Pierre Edmond Boissier (1810–1885), in Bibliotheque Universelle des Sciences, Belle-Lettres, et Arts; is commonly known as Spanish fir in the English language and as Pinsapo or abeto español in Spanish. For centuries, local people have mashed its twigs in water, creating soap, explaining the species and Spanish common name, "soap pine."
There are three varieties:
Abies pinsapo var. pinsapo, the type which is described on this page.
Abies pinsapo var. marocana, the Moroccan fir, differs in the leaves being less strongly glaucous and the cones slightly longer, at 4.4 to 8 inches (11–20 cm) long.

Abies pinsapo var. tazaotana, both endemic to Africa.
Description. Spanish fir is an evergreen, coniferous species of tree which grows to mature heights of 65 to 100 feet (20 – 30 m); with a trunk up to 60 inches (150 cm) in diameter, measured at breast height; and a conic crown, sometimes becoming irregular with age.
Bark is smooth and dark gray in color, becoming longitudinally fissured, rough and scaly with age.

Branchlets are stout and very stiff (perhaps more so than in any other species of Abies), colored red-brown or green-brown turning grey, with a glabrous, faintly ridged texture; leaf scars are large and purple-gray in color.

Foliar buds are globose, measuring 0.2 by 0.24 inch (5 × 4 mm); and are very resinous, triangular, and keeled; with red-brown scales; free at the apex.

Leaves (needles) measure circa 0.5 inch (1.5 – 2 cm) long, arranged radially all round the shoots. They are strongly glaucous, pale blue-green in color, with broad bands of whitish wax on both sides.

Seed cones have cylindrical shape, measuring 3.5 to 12 inches (9 – 18 cm) long, colored greenish-pink to purple before maturity, with a smooth texture.

Bract scales are short and not exserted. When mature, they disintegrate to release the winged seeds.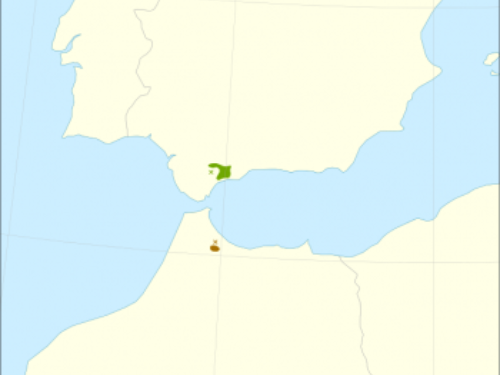 Distribution. This species is native to southern Spain and northern Morocco. Related to other species of Mediterranean firs, is considered the Andalusian National Tree, native of the Andalusian mountains. In Spain, it occurs at elevations of 2,700 to 5,500 feet (900 – 1,700 m) above sea level in the Sierra de Grazalema in the province of Cádiz and the Sierra de las Nieves and Sierra Bermeja, both near Ronda in the province of Málaga. In Morocco, it is limited to the Rif mountains at altitudes of 4,500 to 6,700 feet (1,400 – 2,100 m) on Jebel Tissouka and Jebel Tazaot.
Hardy to USDA Zone 6 — cold hardiness limit between -10° and 0°F (-23.2° and -17.8°C).
The cultivar Abies pinsapo 'Glauca' earned the Royal Horticultural Society Award of Garden Merit in 1993.
Attribution from: Wikipedia, The Free Encyclopedia