Abies pindrow / west Himalayan fir
Abies pindrow, as described in 1836 by (Royle ex D. Don) John Forbes Royle (1798–1858) in Illustrations of the Botany of the Himalayan Mountains, is commonly known as west Himalayan fir; as well as Pindrow fir and पिन्द्रू (Pindrau) in Hindi. It is synonymous with A. webbiana var. pindrow (Brandis). The species name refers to one its common names, Pindrau, which refers to the Pindrau Hills in this conifer's native range.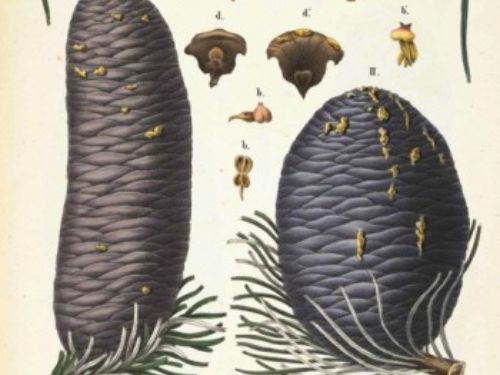 Description. West Himalayan fir is an evergreen coniferous species of tree which grows to mature heights of 180 feet (60 m) tall, with a trunk up to 7.5 feet (2.4 m) in diameter, measured at breast height.
The tree's crown is narrow and conical with short branches.
Bark on young trees is smooth and gray, becoming thick, gray-brown and furrowed with age.
Shoots are grayish-pink to buff-brown in color; and are smooth and glabrous (hairless).
Foliar buds are globose, large, and resinous.
Needles on the upper side of the shoot are radially arranged, on the lower side spiny, measuring1.2 to 2.5 inches (3 - 6 cm) long and 0.06 to 0.08 inch (1.5 - 2 mm) wide, bifid (only acute when young), colored glossy dark-green, with 2 gray stomata bands on the lower surfaces.
Seed cones are cylindrically shaped, each measuring 4 to 7 inches (10 - 18 cm) long by 2.5 to 2.8 inches (6 - 7 cm) thick, deep purple when young, later turning brown.
Seed scales are about 1.2 inches (3 cm) wide with concealed bract scales.
Seeds measure 0.4 to 0.5 inch (1 - 1.2 cm) long with attached wing twice the length of the seed.
Distribution. This species is native to the Himalayan mountain range, throughout the western Himalaya from Afghanistan to Nepal, found growing at elevations between 6,500 and 9,600 feet (2,000 - 3,000 m) above sea level.
Hardy to UDSA Zone 8 — cold hardiness limit between 10° and 20°F (-12.1° and -6.7°C).
Attribution from: Chris Earle, The Gymnosperm Database, ©2012