Abies nordmanniana / Nordmann fir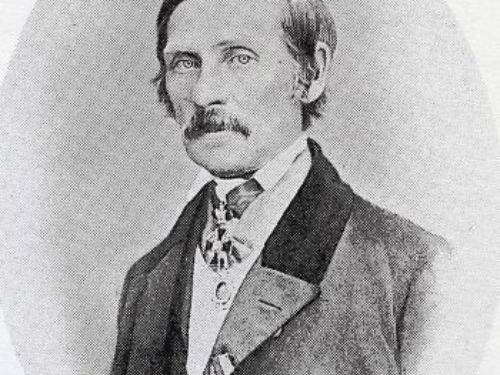 Abies nordmanniana, as described in 1841 by Christian von Steven (1781 - 1863), later completed by Édouard Spach (1801 - 1879), in Histoire Naturelle des Végétaux. Phanérogames, 11th edition; is commonly known as Nordmann or Caucasian fir, also as Pikhta kavkazkaya in the Finnish language. The species is named in honor of Finnish zoologist Alexander von Nordmann (1803–1866), Professor of Botany at Odessa, Russia.
There are two subspecies (treated as distinct species by some botanists), intergrading where they meet in northern Turkey at about 36°E longitude:
Caucasian fir, Abies nordmanniana subsp. nordmanniana. (the type as described here). Native to the Caucasus mountains and northeastern Turkey west to about 36°E. Shoots are often pubescent (hairy).
Turkish fir, Abies nordmanniana subsp. equi-trojani (synonyms include, Abies bornmuelleriana, Abies equi-trojani). Native to northwestern Turkey from Mount Ida eastwards to about 36°E. Shoots usually glabrous (hairless).
Ethnobotany. This fir is one of the most important species grown for Christmas trees, being favored for its attractive foliage with needles that are not sharp, and do not drop readily when the tree dries out. It is also a popular ornamental tree in parks and large gardens, and along with the cultivar 'Golden Spreader' has gained the Royal Horticultural Society Award of Garden Merit. The wood is soft and white, and is used for general construction, paper, etc.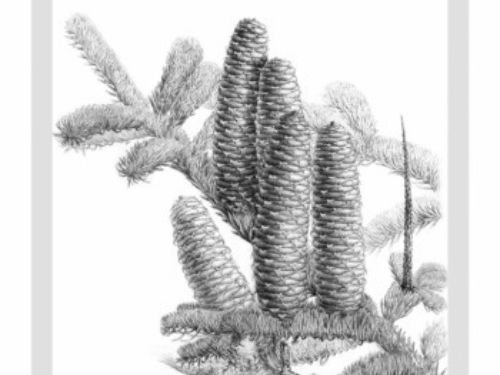 Description. Nordmann fir is an evergreen coniferous species of tree which will grow to mature heights of 200 feet (60 m) tall and with a trunk diameter of up to 6.5 feet (2 m) in diameter, measured at breast height. In the Western Caucasus reserve, some specimens have been reported to be 256 feet (78 m) and even 262 feet (80 m) tall making them the tallest trees in Europe.
Bark is gray-brown in color, with a smooth texture and resin blisters until very old.

Leaves are needle-like and flattened, measuring 0.72 to 1.4 inches (1.8 – 3.5 cm) long and .08 inch (2 mm) wide by 0.02 inch (0.5 mm) thick; colored glossy dark green above, and with two blue-white bands of stomata below. The tip of the leaf is usually blunt, but sometimes slightly notched, although it can also be pointed, particularly on strong-growing shoots on young trees.

Seed cones measure 4 to 8 inches (10 – 20 cm) long and 1.5 to 2 inches (4 - 5 cm) broad. They disintegrate when mature to release the seeds.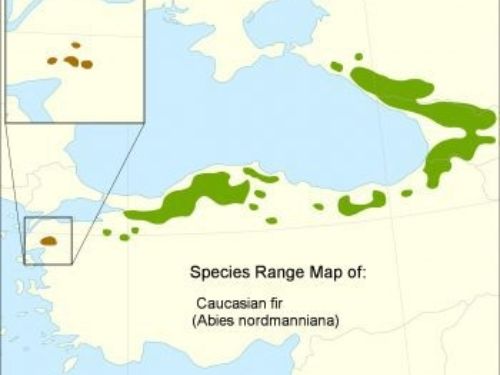 Distribution. This species is native to the mountains west and east of the Black Sea, in Turkey, Georgia, Russian Caucasus and northern parts of Armenia. It grows at elevations of 3,000 to 7,200 feet (900 – 2,200 m) above sea level on mountains with annual rainfall of over 40 inches (1,000 mm). Current distribution of the Nordmann fir is associated with the forest refugia that existed during the Ice Age at the eastern and southern Black Sea coast.
Hardy to USDA Zone 4 — cold hardiness limit between -30° and -20°F (-34.3° and -28.9°C).