Abies magnifica / California red fir
Abies magnifica, as described in 1863 by Andrew Dickson Murray (1812–1878), in Proceedings of the Royal Horticultural Society of London, 3rd edition, is commonly known as California red fir, silvertip fir or Shasta red fir. A broad zone of hybridization exists between A. magnifica and A. procera that includes the southern Cascades, the Klamath Mountains, and associated coastal ranges of southwestern Oregon and coastal California. Trees in this zone display characters intermediate between the two species; the most conspicuous of which is a transition from exserted bracts (procera) to included bracts (magnifica) in the mature seed cones. These intermediate trees had been previously described as A. magnifica var. shastensis Lemmon (1890), a name which is widely used, but are now more appropriately called Abies x shastensis Lemmon (1897).
There are two recognized varieties:
A. magnifica var. magnifica, the typical species which is described here.
A. magnifica var. critchfieldii Lanner (2010), native to the southern Sierra Nevada. Described at this link.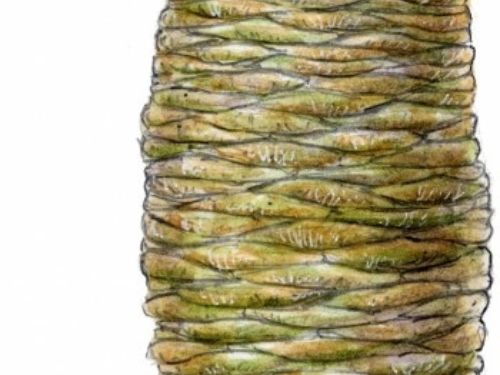 Description. California red fir is an evergreen coniferous species of tree which will grow to mature heights of 130 to 200 feet (40 – 60 m) tall with a 6.6 foot (2 m) trunk diameter at breast height, rarely to 250 feet (76.5 m) tall and 10 feet (3 m) diameter, with a narrow conic crown.

Bark on young trees is smooth, grey, and with resin blisters, becoming orange-red, rough and fissured on old trees.

Leaves are needle-like, measuring 0.8 to 1.4 inches (2 - 3.5 cm) long, glaucous blue-green in color above and below with strong stomatal bands, and an acute tip. They are arranged spirally on the shoot, but twisted slightly s-shaped to be upcurved above the shoot.

Seed cones are erect, measuring 3.6 to 8.4 inches (9 – 21 cm) long, yellow-green (occasionally purple) when young, ripening brown and disintegrating to release the winged seeds in fall.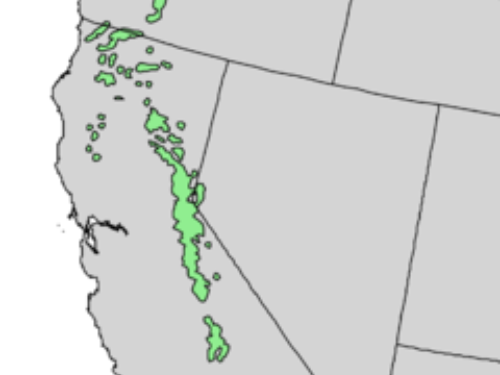 Distribution. This species is native to USA — Oregon, California and Nevada found at elevations of 4,500 to 8,600 feet (1,400 - 2,700 m) above sea level in mixed conifer forests. The zone of hybridization extends north from about Mount Lassen in California, and the boundary is somewhat more northerly on the east (dry) side of the species' range, than on the coastal side.