Abies lasiocarpa / subalpine fir
Abies lasiocarpa, as described in 1849 by William Jackson Hooker (1785–1865), with work completed by Thomas Nuttall (1786–1859), in The North American Sylva 3rd edition, is commonly known as subalpine fir, Alpine fir, mountain balsam fir, white balsam fir, western balsam fir, Rocky Mountain fir; as well as pino real blanco de las sierras in the Spanish language; and sapin concolore in French. The species name describes the species' seed cone bracts which are much shorter than the densely short, hairy seed scales. In the Latin language, "lasiocarpa" translates into "hairy fruit."
There are three recognized varieties:
A. lasiocarpa var. lasiocarpa, the northern subalpine fir, described from Mount Hood, Oregon. The typical species which is described here.

A. lasiocarpa var. arizonica (Merriam) Lemmon, the Arizona Cork-bark fir, native to the southern Rocky Mountains. Described at this link.

A. lasiocarpa var. bifolia (Eckenwalder), the western subalpine fir, native to much of the interior of western North America. Described at this link.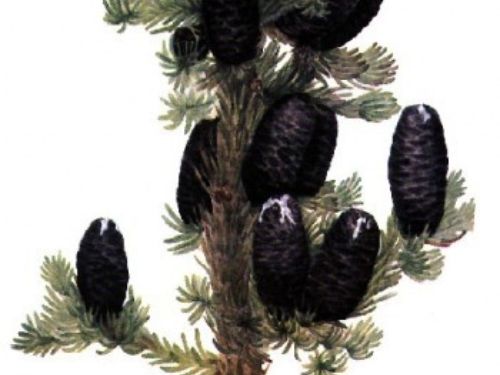 Description
. Subalpine fir a medium-sized evergreen species of tree growing mature heights of 66 feet (20 meters), exceptionally to 130 to 160 feet (40 – 50 meters) tall, with a trunk up to 40 inches (1 m) in diameter, measured at breast height; and a very narrow conic crown.
Bark on young trees is smooth and gray with resin blisters, becoming rough and fissured or scaly on old trees.

Leaves are flat and needle-like, measuring 0.6 to 1.2 inches (1.5 – 3 cm) long, colored glaucous green above with a broad stripe of stomata, and two blue-white stomatal bands below. The fresh leaf scars are reddish. Needles are arranged spirally on the shoot, but with the leaf bases are twisted to be arranged to the sides of and above the shoot, with few or none below the shoot.

Seed cones are held erect, measuring 2.4 to 4.8 inches (6 – 12 cm) long, colored dark blackish-purple with fine yellow-brown pubescence, ripening brown and disintegrating to release the winged seeds in early fall.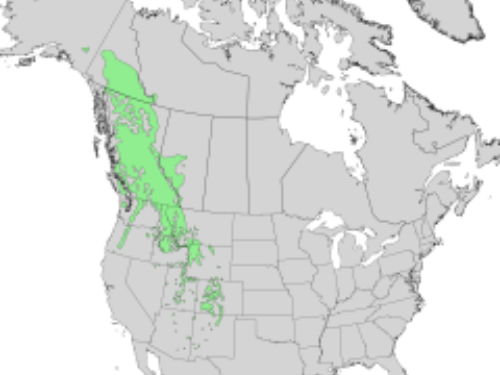 Distribution. This species is native to Western Canada — the mountains of Yukon, British Columbia and western Alberta and in the Western United States — from southeastern Alaska, Washington, Oregon, Idaho, western Montana, Wyoming, Utah, Colorado, New Mexico, Arizona, northeastern Nevada, and the Trinity Alps of the Klamath Mountains in northwestern California.
It occurs at high altitudes, from elevations of 1,000 to 3,000 feet (300 – 900 m) in the north of the range (rarely down to sea level in the far north), to 8,000 to 12,000 feet (2,400 – 3,650 m) in the south of the range; it is commonly found at and immediately below the tree line.
Hardy to Zone 5 — cold hardiness limit between -20° and -10°F (-28.8°C and -23.3°C).
Attribution from: Wikipedia, The Free Encyclopedia