Abies koreana / Korean fir
Abies koreana, as described in 1920 by E.H. Wilson (1876 – 1930), in Journal of the Arnold Arboretum, is commonly known as Korean fir; as well as 구상나무, (Gusang namu) in the Korean language. Wilson collected the type in 1917 on Quelpaert Island, Hallai-San (now known as Hallasan National Park on Jeju Island).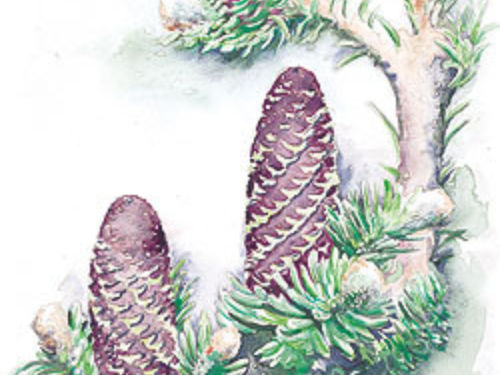 Description. Korean fir is an evergreen coniferous species of tree that will grow to a mature height of 30 to 60 feet (9 - 18 m) tall with a 3 to 6 foot (1 - 2 m) diameter trunk at breast height.
Bark is smooth, with resin blisters, becoming furrowed and plate-like, purplish then pale gray, with a reddish-brown inner-bark.
Branchlets are grooved, slightly pubescent, shiny gray or yellowish-red becoming purplish.
Buds are ovoid, free from the leaves, chestnut-brown to red with whitish resin, 0.03 to 0.05 inch (0.8 - 1.2 mm) in diameter.
Foliage grows crowded, spreading upwards and outwards, nearly spirally arranged, straight, linear, keeled below, shiny green above, bluish-white below; stomata usually absent above, with 10 stomatal lines below; 0.4 to 1 inch (1 - 2.5 cm) long by ca. 0.1 inch (2 - 3 mm) wide, with a notched apex.
Pollen cones are globular-ovoid, reddish-yellow or green tinted violet-brown 0.4 inch (1 cm) long by 0.3 inch (0.7 cm) wide.
Seed cones are broadly rounded, blunt-topped, 2 to 2.8 inches (5 - 7 cm) long by 1 to 1.6 inches (2.5 - 4 cm) wide, Blue-gray at first then turning dark violet with white resin spots.
Seeds are ovoid, within a violet-purple nut, 0.28 inch (7 mm) long with a reddish-brown wing.
Distribution
. This species is native to Korea — Jeju Island and Chirisan, growing at elevations of 3,200 to 6,000 feet (1,000 - 1,900 m) above sea level, in temperate rain forest with high rainfall and cool,
humid
summers, and heavy winter snowfall.
Hardy to Zone 5 — cold hardiness limit between -20° and -10°F (-28.8°C and -23.3°C).
Attribution from: E.H. Wilson; Four new conifers from Korea. ©1920, Journal of the Arnold Arboretum, Boston, MA; vol.1:186-190.