Abies guatemalensis / Guatemalan fir
Abies guatemalensis, as described in 1939 by Alfred Rehder (1863–1949), in Journal of the Arnold Arboretum, vol. 20, is commonly known as Guatemalan or Pashaque fir in the English language; as well as abeto de Guatemala, pinabete, or romerillo in Spanish.
Historically there have been two recognized varieties of Abies guatemalensis.

var. guatemalensis, the type which is described here, and

Abies guatemalensis var. jaliscana.
These were descriptions and opinions reached by Aljos Farjon working simply with herbarium samples. Later studies done by K.D. Rushforth (1989) and Zsolt Debreczy (2012) that involved field study led to conclusions that A. guatemalensis var. jaliscana is probably best described as its own species, namely Abies flinkii. These conclusions were further supported by molecular analysis done by Érika Aguirre-Planter, et. al. (2012).
Description. Guatemalan fir is as evergreen coniferous species of tree which grows to a mature height of 65 to 130 feet (20 - 40 m) tall with a 3 foot (100 cm) trunk diameter at breast height.

The needles measure 0.6 to 2.2 inches (15 - 55 mm) long and 0.05 to 0.08 inch (1.2 - 2 mm) wide, shining green above with 2 white stomatal bands beneath.
The seed cones are oblong-cylindrical, measuring 3.2 to 4.6 inches (8 - 11.5 cm) long by circa 1.7 inch (4 - 4.5 cm) broad, purple when immature, becoming dark brown at maturity.
Distribution. This has the most southerly distribution of any species in the genus (Donahue et al. 1985, Abies guatemalensis: a two-year status report). It is native to: El Salvador, western Guatemala — Quiché, Chichicastenango, Totonicapán, Sololá, Huehuetenango, Quetzaltenango, and San Marcos; also Jalapa Honduras — the Santa Barbara Mountains. In Mexico — Chiapas, Colima, Guerrero, Oaxaca, Tamaulipas. It is a mountain species, associated primarily with Pinus ayacahuite, P. hartwegii, and Cupressus lusitanica. Although growing at 5,900 to 13,500 feet (1,800 - 4,100 m), this most-southerly of firs is still not reliably hardy in northern climates. It grows in areas that have annual rainfall of more than 40 inches (1000 mm) in moderately acidic soils (pH 5.4 to 5.7).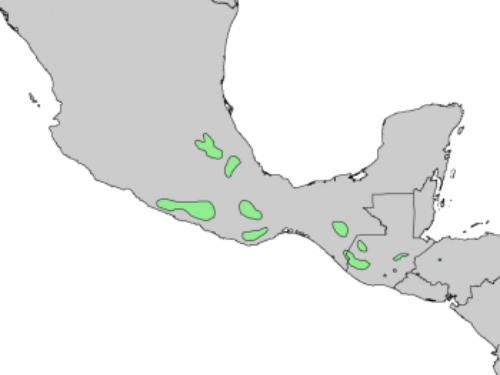 Attribution from: Aris Auders & Derek Spicer, RHS Encyclopedia of Conifers, ©2012