Abies firma / Momi fir
Abies firma, as described in 1842 by Philipp Franz von Siebold (1796–1866) and Joseph Gerhard Zuccarini (1790–1848), in Flora Japonica, 2nd edition, is commonly known as Momi fir; or as モミ (fir) in the Japanese language. The species name emphasizes this conifer's stiff needles.
Ethnobotany. In Japan, the wood is used for construction and coffins. As with most species having wood of a uniform light color, the Japanese find it exceptionally pleasing. In the U.S. and Europe it is a popular ornamental species, as well as proving to be a valuable seedling for use in understock for other fir species for planting in the southeastern U.S.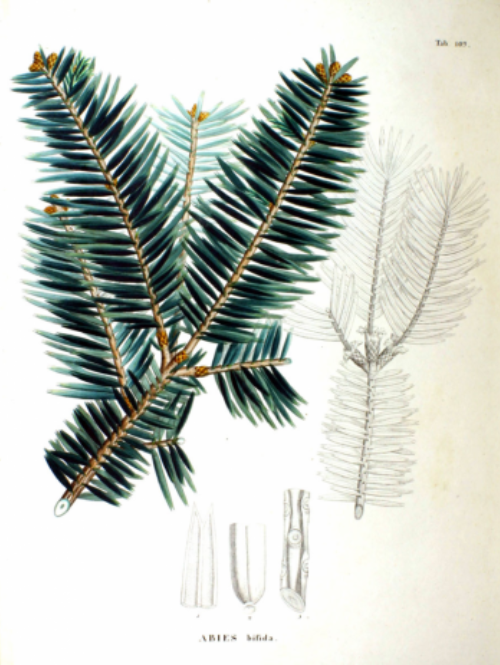 Description. Momi fir is an medium- to large-sized, evergreen coniferous species of tree that grows to mature heights of 160 ft (50 m) tall with a 6 foot (2 m) wide trunk diameter, measured at breast height. Its broad, conical crown of straight branches rises at an angle of about 20° above horizontal.
Bark is scaly grey-brown, with resin blisters on young trees.
Shoots are grooved, buff to grey-brown in color, with a glabrous or finely pubescent texture.
Leaves (needles) are flattened, measuring 0.8 to 2 inches (2 – 5 cm) long and 0.08 to 0.16 inches (2–4 mm) thick, spread at nearly right angles from the shoot. They are bright green above, and grayish-green below with two broad stomatal bands.
Seed cones measure 3 to 6 inches (7 – 15 cm) long by 1.2 to 2 inches (3 – 5 cm) wide; colored green, maturing yellow-brown, tapering to a 0.8 to 1.2 inch (2 – 3 cm) broad bluntly rounded apex.
Seeds measure 0.28 to 0.36 inch (7 – 9 mm) long with a 0.6 inch (1.5 cm) long wedge-shaped wing. They are released after the cones disintegrate at maturity in October.
Distribution. This species is native to Japan — Honshu, Shikoku, Kyushu, and Yakushima islands at elevations 160 to 6,000 feet (50 - 1900 m) above sea level, rarely in pure stands on dry sites, usually in mixed forest with a variety of other conifers; where climate is warm-temperate to cool, with annual precipitation in excess of 32 inches (1,000 mm)
Hardy to USDA Zone 6 — cold hardiness limit between -10° and 0°F (-23.2° and -17.8°C) and its preferred climate is humid continental.
Attribution from: J. Silba; An international census of the Coniferae. Phytologia memoir no.8; ©1986, H.N. Moldenke and A.L. Moldenke, Corvallis, OR.