Abies cilicica / Cilician fir
Abies cilicica, as described in 1855 by (Antoine et Kotschy) Élie-Abel Carrière (1818–1896), in Traité Général des Conifères ou description de toutes les espèces et variétés aujourd'hui connues, avec leur synonymie, l'indication des procédés de culture et de multiplication qu'il convient de leur appliquer, is commonly known as Cilician or Syrian fir in the English language; as well as Toros göknarı (Taurus fir) in Turkish, abete di Cilicia in Italian, and as sapin de Cilicie in French. The species name The species name cilicica refers to the southern region of Asia Minor, where this species was discovered in 1853 by the Austrian botanical explorer T. Kotschy, who introduced it to cultivation in 1854, and in the U.S. since before or around 1870.
Description. Cilician fir is a tall, narrow coniferous species of tree, that grows to mature heights of 80 to 120 feet (25 - 35 m) tall, with a trunk up to 7.5 feet (210 cm) in diameter, measured at breast height, with a narrow, conical crown.
branches grow in ascending fashion.

bark is ash-gray in color, with smooth texture at first, becoming deeply fissured into scaly plates.

branchlets are smooth, colored reddish yellow-grey to olive-brown, with scattered pubescence.

foliar buds have ovoid shape. They are non-resinous, and chestnut-brown in color. Bus scales are keeled and free at the tips, measuring 0.04 to 0.072 inch (1 - 1.8 mm) in diameter.

needles spread upwards and forwards, or 2-ranked with a V-like parting. They have linear outline; dark green in color above, whitish green below, with 2 to 3 short lines of stomata above, in 6-7 lines below in narrow bands. Individual needles measure 0.8 to 1.6 inches (20 - 40 mm) long and 0.06 to 0.12 inch (1.5 - 3 mm) wide, with entire or slightly bifid apices.

seed cones are cylindrical, and reddish brown in color, measuring 6 to 12 inches (15 - 30 cm) long and 1.6 to 2.4 inches (4 - 6 cm) wide, with bluntly pointed apices. Cone scales are fan-shaped, with hidden bracts, measure a quarter to half the height of the scale.

seeds are reddish-brown in color, with an obovoid wing, up to 0.08 inch (2 cm) long.
Champion Trees: trunks up to 20 feet (6.17 m) broad exist in the wild; cultivated specimens measured are taller than any noted in the wild: 121 feet by 13 feet, 2 inches (6.1 x 4 m) in Great River, New York (1981); 102 feet by 11 feet 10 inches (31 x 3.6 m) in Wellesley, Massachusetts (1984). [courtesy of Jacobsen]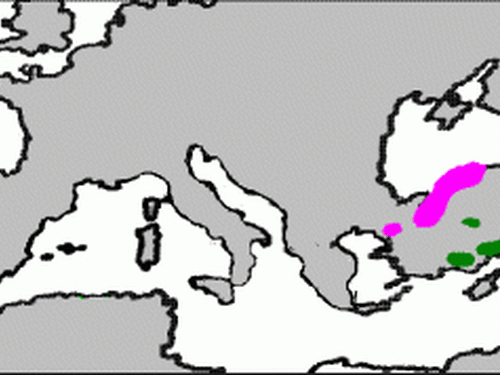 Distribution. This species is native to southern Turkey — Taurus Mountains, northwestern Syria, and northern Lebanon, typically found growing at elevations of 3,000 to 6,000 feet (1,000 - 2,100 m) above sea level.
Hardy to USDA Zone 5 (-10 to -20ºF / -23.3 to -28.9ºC), and is well-adapted to thrive in Mediterranean and Marine westcoast climates.